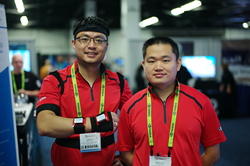 Perception Neuron is not only new and better technology, it is a product that everyone will have access to - and when I say everyone, I truly mean everyone,
Beijing, China (PRWEB) August 06, 2014
Noitom, Ltd., global innovator in the field of motion capture systems, is excited to announce it will once again be in attendance at SIGGRAPH, which will be held this year in Vancouver, Canada from August 12 to 14 at the Vancouver Convention Center.
This will be Noitom's second year at SIGGRAPH. In 2013, Noitom garnered industry accolades when it launched Perception TrueMotion (aka Legacy), a wireless inertial sensor-based motion capture systems.
"Perception Legacy has been a big success for us and we confirmed this at E3 in Los Angeles just a few months ago," explains Haoyang Liu, CEO of Noitom. "But this is nothing compared to what we will announce at SIGGRAPH this year. Many companies claim to revolutionize an industry, but I think we will literally astound people with what we are bringing to the show."
Noitom will be unveiling a secret new product code named Perception Neuron on the first day of the show, with a preview for select members of the media in the week leading to the event.
"Perception Neuron is not only new and improved technology, it is a product that everyone will have access to - and when I say everyone, I truly mean everyone," says Tristan RuoLi Dai, CTO and co-founder of Noitom. "Creating technology is one thing, but making it accessible to the public is another - I think we have actually achieved both goals and I cannot wait to showcase this. It will truly democratize motion capture. I am excited to see what people around the world will create when we give them the power."
Noitom will be located in booth number 533. Members of the press are invited to request personal appointments to "experience" Perception Neuron first hand. Please contact our media coordinator at noitom(at)myrockgroup(dot)com for an interview.
About Noitom, Ltd.
Founded in 2010, Noitom Ltd. works with a team of dedicated engineers who develop world-class motion capture technology for consumer and commercial markets through the integration of MEMS sensors, pattern recognition, human kinetics and wireless transmission. Noitom is an international leader in innovative technology for use in animation, film, medical applications, robotics and gaming. Noitom is headquartered in Beijing with affiliate offices in Shenzhen. For further information about Noitom and its services, please visit, http://www.noitom.com. For general inquiries, please email, info(at)noitom(dot)com.