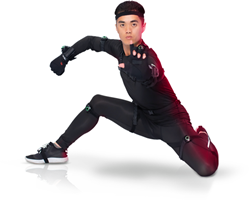 This is another major revolution on our path to delivering the promise of 'Mocap For All.'
LOS ANGELES (PRWEB) July 29, 2019
Five years after introducing Perception Neuron to the world and democratizing the motion capture industry, Noitom has returned to SIGGRAPH to announce the release of a new line in their range of motion capture products. Launching on the first day of the 45th annual conference, Perception Neuron® Studio is a first-of-its-kind, full-body inertial motion capture system that can be outfitted, a-la-carte, with hardware and software add-ons for advanced motion capture applications. With Perception Neuron Studio, Noitom is able to offer absolute positioning and object tracking for the first time. Accessories such as inertial/optical hybrid trackers and full-finger capture gloves will give creators more freedom to capture rigorous body motions for uses including live performance, biomechanical analysis, virtual production, and VR simulation.
Noitom will be hosting live demos of Perception Neuron Studio with special performances featuring Season 10 "So You Think You Can Dance" winner, Dushaunt Fik-Shun Stegall, at 10:30 am/ 12:30 / 2:30 and 4:30 on Tuesday and Wednesday. Demos of Perception Neuron PRO and Perception Neuron 2.0 will also be on display for attendees, showcasing the versatility and evolution of Noitoms different products. SIGGRAPH is taking place at the Los Angeles Convention Center now through August 1st.
Perception Neuron® Studio has allowed Noitom to finally push the boundaries of motion capture technology. Noitom has now opened the doors for users to go beyond the limitations of a pure inertial or optical-only system to once again revolutionize the motion capture industry.
"This is another major revolution on our path to delivering the promise of 'Mocap For All'," says Roch Nakajima, President of Noitom International. "Users will now be able to invest in a system that can grow and adapt as their needs evolve. They can now choose from the Perception Neuron Studio menu of hardware and software tools delivering anything from basic inertial mocap all the way to industrial level simulation. Our new inertial sensors have a completely new internal architecture making them significantly more accurate and robust. Their ability to combine seamlessly with our hybrid inertial/optical trackers now gives users the power of positional accuracy not only for characters but objects as well. With limitless possible configurations, this is a game-changer as we are offering an attainable, adaptable and sustainable solution for anyone from entry-level mocap artist to multi-national engineering firms."
Perception Neuron Studio, when initially purchased, comes as a basic full-body inertial motion capture package similar to Noitom's previous system— Perception Neuron Pro. The difference with Studio beside the new sensor internal components and architecture, as well as new algorithm and corresponding software, is that it is able to be built upon from its ecosystem of available products to advance the level of motion capture needed. Users can select from a menu of add-on accessories that support tracking of objects and fingers as well as the ability to combine inertial and optical tracking for more freedom of movement with little to no occlusion and with absolute data.
Now available for pre-order, Noitom is introducing Perception Neuron® Studio at $5,999. The launch also comes with a slew of pre-order specials. Buyers can pre-order Perception Neuron® Studio and receive an immediate $500 voucher toward the pre-order deposit with the SIGGRAPH promo code. (Check the Perception Neuron website and Noitom's social media for codes).
For those who already own a Perception Neuron Pro system, Noitom will buy back their original purchase and apply $2,000 toward the cost of Perception Neuron Studio. Noitom is also offering an exclusive competitor upgrade. Anyone who owns an Xsens or Rokoko motion capture system will get $2000 off the price of Perception Neuron Studio with proof of competitor purchase.
During SIGGRAPH, Noitom will also offer across the board discounts on their Perception Neuron and Perception Neuron Pro motion capture systems. Anyone using Noitom's promo code through August 5th can take $100 off a Perception Neuron 2.0 and a hefty $800 off Perception Neuron Pro—one of the biggest discounts the company has offered.
Noitom will be at SIGGRAPH in the Los Angeles Convention Center, Booth 1461, Hall H through August 1st. For hours and general information about SIGGRAPH, please visit https://s2019.siggraph.org/.
For more details on Perception Neuron® Studio, its pricing, discounts, and how to purchase, visit: http://www.studio.neuronmocap.com.
For information on Noitom's promo codes and about Perception Neuron and Perception Neuron Pro, visit http://www.neuronmocap.com.