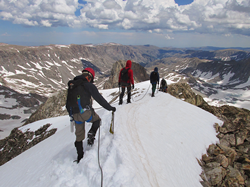 Trips vary in length and skills acquired, ranging from Wyoming and the Pacific Northwest to Patagonia and the Himalayas.
LANDER, Wyo. (PRWEB) June 04, 2019
For many people, the idea of "mountaineering" conjures up images of iconic Everest summits. However, while the skill can take you to the top of the world, it's not just for elite climbers and rugged outdoorsmen. A great way for outdoor enthusiasts to start their mountaineering journey is by taking an expertly curated course led by some of the most experienced instructors in the world who can spark confidence in mountaineering novices.
For individuals inspired to conquer the mountains, Wyoming-based NOLS (National Outdoor Leadership School) offers a Wind River Mountaineering expedition where students learn to traverse snowy glaciers, climb high passes and explore lodgepole pine forests of Wyoming. In addition to the technical and leadership skills gained, they will also learn about local ecology as the terrain changes from green meadows to steep granite crags.
Those interested don't need to be an expert at camping or come in with prior experience — NOLS instructors will help them learn everything they need to know. All NOLS courses start with the basics, like setting up a tent and staying comfortable in the unpredictable weather of the mountains. Afterwards, students can advance to skills like navigating off-trail at high elevations and the knot tying, rescue and rope handling skills essential to mountaineering.
In total, NOLS offers 27 courses that teach mountaineering. These trips vary in location, trip length and skills acquired, ranging from Wyoming and the Pacific Northwest to Patagonia and the Himalayas. For more proficient alpinists looking for the next challenge, NOLS runs a Waddington Range Mountaineering expedition. Participants will experience some of the biggest and most remote glaciers NOLS travels on while honing their rock, snow, and ice mountaineering skills during an unforgettable month exploring the Waddington Range, Whitemantle Range and Homathko Icefield of British Columbia, Canada.
From novices to experts, NOLS caters to all levels of mountaineering enthusiasts. Ultimately, all NOLS mountaineering courses focus on developing greater awareness of a leadership style, the skills to continue growing and the experiences to explore the mountains for the rest of your life. Tuition ranges from $3,945 to $17,775 per person for 17- to 80-day courses, with the 30-day Wind River Mountaineering trip priced at $5,100 and the 31-day Waddington Range course priced at $6,150.
About NOLS
NOLS is the world's leading wilderness school. A nonprofit based in Lander, WY, the school provides students the opportunity to step forward – whether on an expedition, wilderness medicine or custom course. Students of all ages graduate from their courses prepared to lead their communities in a changing world. Graduates have a lifelong desire for leadership, commitment to continued skills development, and ongoing education. Since 1965, NOLS has embraced and explored the unknown through outdoor and classroom-based experiences. To learn more about NOLS, call 800.710.6657 or visit http://www.nols.edu.