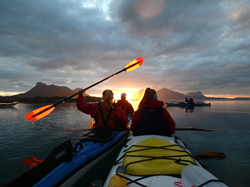 Our goal … is to provide women with ways to reconnect deeply with themselves and authentically with gorgeous wilderness settings.
LANDER, Wyo. (PRWEB) May 29, 2019
Deep coastal waters, lush foliage, mountain backdrops and peaceful fishing villages are among the many appeals of a new Scandinavian sea kayaking expedition offered by Wyoming-based NOLS (National Outdoor Leadership School), which continues to expand its female-only expedition offerings in locales in the U.S. and around the globe. This intimate and impactful two-week travel opportunity in Norway, Aug. 7-20, 2019, offers participants the chance to be immersed in the scenic Nordic splendor that lies beyond the Arctic Circle. Here, they work on the real-world outdoor skills of paddle techniques, self-rescue, minimum-impact camping and environmental awareness with NOLS' female instructors, all while enhancing such empowering leadership skills as decision-making, problem-solving, risk management and communication strategies.
In this time of #metoo and mixed messages about gender bias and equality, more and more women are turning to the soul-soothing potential of female-focused adventure travel — not only to escape in a healthy and rejuvenating way, but also to reconnect with themselves and their environments during getaways where no guys are allowed.
"Our goal with female-focused trips is to provide women with ways to reconnect deeply with themselves and authentically with gorgeous wilderness settings," says Liz Tuohy, NOLS education director. "By offering women-only shared experiences, NOLS can be a catalyst for meaningful self-reflection, helping women explore their potential for independence and strength in a supportive environment, all within the context of rediscovering their part in something bigger than themselves."
Although perhaps best known for their famously rugged gap-year and travel-abroad expeditions for students, NOLS — founded in 1965 by legendary mountaineer Paul Petzoldt — has established a challenging series of expeditions called "Prime," each of which is grounded in the same philosophy for adults 23 and over of building high-level outdoor and leadership skill sets while reveling in personal growth and fun. Within the Prime course offerings, NOLS' female-only trips have struck a chord with women looking to get out of their comfort zones while still comfortably ensconced in a welcoming group of fellow females.
"Educational research suggests that many female-identified learners thrive in gender-affirming environments," says Shannon Rochelle, a NOLS instructor since 1999 and the school's research manager. "When we manage the threat of gender stereotyping, women are more likely to ask questions, take risks in learning, make mistakes and volunteer for leadership roles. At NOLS, we believe these are important leadership opportunities."
As proof that NOLS knows its stuff when it comes to enabling women's personal growth in a traditionally male-dominated milieu, an impressive list of women in high-profile leadership positions have NOLS courses in their backgrounds, including mountaineer and Everest summiteer Anne Parmenter; NPR producer and Peabody Award recipient Catherine Stifter; physician and citizen scientist-astronaut candidate Dr. Shawna Pandya; and most recently in the news, astronaut Anne McClain. And NOLS empowers its female instructors as well, fostering their passion for the outdoors and setting them up for success through stringent instructor training courses that net them leadership roles in NOLS' coed as well as women-only expeditions.
In addition to the 14-day Scandinavian kayaking expedition, NOLS female-only Prime summer and fall course offerings include a month-long Pacific Northwest backpacking trek where women can increase their route-finding and conflict-resolution proficiencies, and two eight-day adventures – the chance for women to sharpen their rock-climbing skills in Arizona's Cochise Stronghold and to explore Alaska's wilderness in the challenge of near-24-hour daylight. Tuition ranges from $2,000 to $4,705 per person for the 8- to 31-day courses, with the Scandinavian kayaking trip priced at $4,175. NOLS also seeks to empower girls and young women through courses devoted to 14/15-year-olds, and separately, to ages 16-23, including backpacking in the Adirondacks, Idaho and the Pacific Northwest.
NOLS is the world's leading wilderness school. A nonprofit based in Lander, WY, the school provides students the opportunity to step forward – whether on an expedition, wilderness medicine or custom course. Students of all ages graduate from their courses prepared to lead their communities in a changing world. Graduates have a lifelong desire for leadership, commitment to continued skills development, and ongoing education. Since 1965, NOLS has embraced and explored the unknown through outdoor and classroom-based experiences. To learn more about NOLS, call 800.710.6657 or visit http://www.nols.edu.