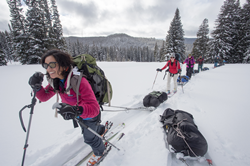 Three winter expeditions for women 23 and older from NOLS trade the everyday gloom of slushy city streets for empowering outdoor experiences that build confidence and skills.
LANDER, Wyo. (PRWEB) January 13, 2020
It seems women are taking the new year by storm, going bigger and bolder with travel wish-lists that forego lazing on the beach for truly transformative adventure. And more often, they're looking to travel in the company of other women, according to just-released forecasts from POPSUGAR and Forbes that name women-only group travel as a growing 2020 travel trend. Perfectly in that frame, three winter expeditions for women 23 and older from NOLS (National Outdoor Leadership School) trade the everyday February and March gloom of slushy city streets for empowering outdoor experiences that build confidence and skills among the most stunning of wild settings.
Spartan Holidays, Genuine Experiences and the Untouristed and Unexpected, as well as Transformative and Women-only Group Travel, are travel trends cited by multiple sources for the coming year. And the NOLS all-female adventures tick all the boxes. The 7- to 12-day winter offerings range from craggy Wyoming backcountry snowscapes to Baja's coral reefs to the "sky islands" of Arizona's Galiuro Wilderness – and are only a few of an expanding number of year-round women's expeditions from the world's leading wilderness school.
Ski or snowboarding lessons at Grand Targhee, the best-kept-secret Wyoming ski resort on the "backside" of the Teton Mountain Range, kick off NOLS 12-day Women's Winter Backcountry Touring expedition, March 7 – 18, 2020 ($2,625). Soon, the small group of up to eight women heads into the pristine mountain wilderness, traversing the famously prolific snow with packed sleds in tow. After a few overnights in yurts, the women create and sleep in their own snug snow shelters under the densely star-packed skies. By day, the technical challenges of snow science and touring skills combine with the thrills of skiing and snowboarding untracked powder as the adventure continues. Along the way, expert instructors help define such integral leadership skills as decision-making, problem-solving, risk management and communication strategies – providing a "souvenir" skill set that changes lives long after the trip ends.
In addition to snowy backcountry touring, NOLS female-only adult winter course offerings include a week-long Women's Baja Sea Kayaking experience, Feb. 29 – March 6, on the Sea of Cortez, learning paddle techniques amid colorful coral reefs and the basics of coastal beach camping for future adventures ($1,750). A perfect beginner's introduction to wilderness hiking and camping skills, the 8-day Women's Southwest Backpacking expedition, February 8 -15, treks Arizona's Galiuro Mountains, where isolated pockets of sub-alpine vegetation and forests of manzanita, oak, juniper and ponderosa pine look out over the stark desert below ($2,050). The winter trips are three of seven women-only adult courses offered throughout 2020 in destinations from Norway to New Zealand.
Says Liz Tuohy, NOLS education director, "By offering women-only shared experiences, NOLS can be a catalyst for meaningful self-reflection, helping women explore their potential for independence and strength in a supportive environment, all within the context of rediscovering their part in something bigger than themselves."
About NOLS:
NOLS is the world's leading wilderness school. A nonprofit based in Lander, WY, the school provides students the opportunity to step forward – whether on an expedition, wilderness medicine or custom course. Students of all ages graduate from their courses prepared to lead their communities in a changing world. Graduates have a lifelong desire for leadership, commitment to continued skills development, and ongoing education. Since 1965, NOLS has embraced and explored the unknown through outdoor and classroom-based experiences. To learn more about NOLS, call 800.710.6657 or visit http://www.nols.edu.