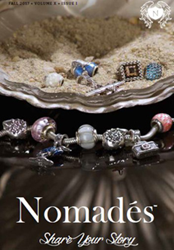 All our custom hand-crafted charms are .925 sterling silver and are handmade in the USA.
Fort Collins, CO (PRWEB) August 29, 2017
Nomades™, a military spouse owned direct sales company, announces the publication of their new Fall 2017 catalog on Friday, September 1, 2017. Featuring over 30 new charms and spacers, this 52 page, full-color glossy catalog is a comprehensive book of all the Nomades™ collection charms and much more!
Charms are categorized by all five military service branches, Life's Moments, and Spacers. Additionally, customers can discover their Home Grown section which includes customized signs, coasters and key chains.
"Nomades™ is very excited to share our new line of products contained in the Fall 2017 Catalog. What sets this company apart from other direct sales companies is all our custom hand-crafted charms are .925 sterling silver and are handmade in the U.S.A. ," stated Heather Osborne, Co-Founder.
Christy DeWitt, Director of Business Development and Sales states "Not only do we have the largest selection of military charms, we offer opportunities for individuals to own their own Nomadés Business. This business opportunity affords individuals to make money, establish their own hours, have fun, and create a business that is movable! Our sisterhood of consultants are located all over the country and at American bases overseas."
The Nomades™ Business opportunity, for individuals who are interested in becoming consultants, is a simple, easy, streamlined process that can be completed in 2 weeks. Persons interested in joining the Nomades™ family can contact Christy DeWitt.
Starting Friday, September 1, 2017, these new products can be seen and purchased on their website at http://www.nomadescollection.com or through any independent Nomades™ consultant.
Nomades™ - Military and Patriotic charms that Share Your Story.