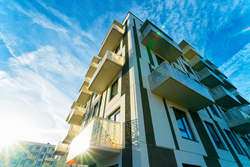 AGOURA HILLS, Calif. (PRWEB) November 13, 2019
Nomadix Inc., the world leader in gateway solutions for provisioning and managing guest networks for more than two decades, has unveiled a new cloud-based solution for multi-family dwelling units – Nomadix Cloud Managed Wi-Fi. Providing intuitive Wi-Fi provisioning and management for property managers, residents and tenants, Nomadix offers security and efficiency in areas where multiple networks are active within a building. The solution offers seamless, secure and consistent connectivity for multi-resident environments, supports multiple bandwidth plans and reduces service calls.
With true portal-free Wi-Fi onboarding, Nomadix Cloud Managed Wi-Fi gives each subscriber a Wi-Fi passphrase (Wi-Fi WPA2 key) that can be used to onboard devices, without requiring a MAC address. Even "headless" devices like Nest thermostats or Xboxes can access the Wi-Fi network simply by following manufacturer's instructions.
With Nomadix Cloud Managed Wi-Fi, residents are no longer required to install personal home routers or network equipment that ultimately compete for radio frequency and cause poor and inconsistent Wi-Fi connectivity. Instead, residents connect to a single SSID and make use of pre-installed Wi-Fi and wired infrastructure at the property.
Using the personal Wi-Fi WPA2 key, a unique Personal Area Network is created for each user, allowing residents to securely connect to their home network from anywhere on the property. Residents can control their connected IoT and media devices at home, while they are at a neighbor's house or in the common area. This includes IoT devices, such as thermostats and lighting, and media streaming devices like Apple TV and Chromecast.
Using an intuitive interface, residents also have the ability to self-manage their own Wi-Fi settings, change passwords and add devices without calling support. Property managers, whether managing one building or hundreds of buildings, can easily provision new Wi-Fi service for residents with easy-to-use drop-down menus.
In addition, because the Nomadix solution manages the bandwidth accessed by all users, bandwidth limits can be set per user or device, regardless of the number of devices each subscriber might have, an important differentiator when you consider that currently over 95 percent of internet bandwidth in residential homes is consumed over resident-managed Wi-Fi networks.
"Our new Nomadix Cloud Managed Wi-Fi offering solves a common dilemma in the industry by giving owners the ability to pre-install managed Wi-Fi networks throughout multiple buildings or facilities, eliminating the need for each resident to set up their own dedicated home routers or equipment and ensuring a secure connection and consistent signal for all users. With more control over the network, owners can generate new revenue and decrease support costs, thereby increasing their net operating income," said Ted Helvey, CEO for Nomadix.
Nomadix Cloud Managed Wi-Fi will be available through Nomadix's network of resellers and service providers. To learn more, please visit nomadix.com/managed-wifi.html.
About Nomadix | Nomadix provides guest-facing cloud-managed network edge devices. The Nomadix Cloud offers a fully integrated suite of tools that simplifies the management and support of a property's network and can be scaled from one to many thousands of properties. Nomadix gateways enable seamless wired and wireless connectivity solutions across public access networks and enterprises. Nomadix gateways have earned a global reputation for unparalleled reliability and ease of management. As one customer put it, "They just work." Powered by patented technology, Nomadix throughput enhancement technologies make available bandwidth stretch further, slowing the pace of investment in bandwidth upgrades and enabling revenue generation and customization in a number of business models. With Nomadix, public access network providers are able to deploy cost-effective, secure and easy-to-use network services. For more information, visit nomadix.com or follow us on LinkedIn, Twitter, Facebook and YouTube.