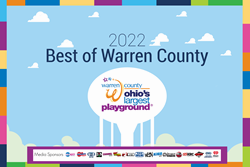 MASON, Ohio (PRWEB) January 27, 2023
The initial nomination phase of the Best of Warren County Awards begins today, the Warren County Convention & Visitors Bureau (WCCVB) has announced.
Hosted annually by the WCCVB, the Best of Warren County Awards serve to recognize the many local shops, restaurants, events and attractions that make Warren County – known as Ohio's Largest Playground – one of Ohio's premier tourism destinations.
This year's awards, sponsored by iHeartMEDIA, WDTN and Cox First Media, feature a total of 26 categories spanning everything from local shops and dining establishments to seasonal festivals and date night destinations:
2022 Best of Warren County Award Categories
Best Outdoor Adventure
Best Fun on the Farm
Best Festival
Best Music or Theater Event
Best Sporting Event
Best Holiday Happening
Best Family Fun
Best Historic Attraction
Best Area to Shop
Best Antique Shop
Best Local Clothing Boutique
Best Local Boutique (Non-clothing)
Best Pizza Place
Best Burger
Best International Eats
Best Signature Dish
Best Breakfast Spot
Best Lunch Spot
Best Fine Dining
Best Sweet Treat Stop
Best Caffeine Kick
Best Bar or Pub
Best Brewery
Best Date Night
Best New Addition
Best Carry Out
Locals and Warren County regulars are invited to nominate their local favorites today through February 12 on OhiosLargestPlayground.com. A final voting phase will follow shortly thereafter.
The WCCVB is a professional destination marketing and management organization committed to spurring economic growth in Warren County by increasing overnight and year-round visitors. In a typical year, the county welcomes more than 12 million visitors, supporting nearly 12,000 jobs and driving an economic impact of more than $1.4 billion for the local community.
About the Warren County CVB:
Warren County is Ohio's Largest Playground®! With easy access from Interstates 71 and 75, visitors to Warren County can enjoy more activities within a 30-mile radius than anywhere else in Ohio. The Warren County Convention & Visitors Bureau is a professional destination marketing and management organization whose mission is to strengthen the community by advancing economic growth and vitality through tourism and overnight stays by encouraging significant participation by visitors in the local tourism economy. Tourism is the leading industry in Warren County. For additional information, visit OhiosLargestPlayground.com or call 513-204-1900
Warren County is Ohio's Largest Playground®
###