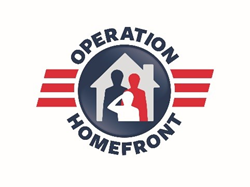 "We are very proud to celebrate these amazing military children who demonstrate resiliency, perform with excellence in the classroom, and volunteer their time to support others and their communities." -- Brig. Gen. (ret.) John I. Pray Jr., President and CEO of Operation Homefront
SAN ANTONIO (PRWEB) November 21, 2018
The deadline to nominate a military child for Operation Homefront's 2019 Military Child of the Year® (MCOY) Awards is Wednesday, December 5th. Military Child of the Year® is the nation's premier celebration of the achievements of military children. The MCOY awards will be presented at a recognition gala on April 18, 2019, in Washington, DC.
The annual awards event recognizes seven outstanding young people, ages 13 to 18, who are legal dependents of a service member or military retiree. Six Military Child of the Year® recipients will represent a branch of the armed forces — the Army, Marine Corps, Navy, Air Force, Coast Guard, and National Guard — demonstrating resiliency, leadership, and achievement during their parents' military service. The seventh award is the Military Child of the Year® Award for Innovation presented by global technology and consulting firm Booz Allen Hamilton. This award goes to a military child who has designed a bold and creative solution to address a local, regional, or global challenge. Children may be nominated for one of the service branch awards as well as the Award for Innovation.
"For the past decade, Operation Homefront's Military Child of the Year® Awards has recognized the extraordinary young people in military families who serve alongside their parents and excel while facing the pressures and uncertainties associated with military life," said Brig. Gen. (ret.) John I. Pray Jr., President and CEO of Operation Homefront. "We are very proud to celebrate these amazing military children who demonstrate resiliency, perform with excellence in the classroom, and volunteer their time to support others and their communities. I encourage those in the military community and beyond to nominate a military child for this national level recognition of exceptional service."
To nominate a child for the award, visit http://www.militarychildoftheyear.org and click the Nominations tab. Nomination fields include when and how long a parent has deployed, number of family moves, Gold Star Family or Exceptional Family Member Program status, whether a parent is a wounded service member, nominee's volunteerism, and five short answers as to why the nominee is deserving.
All seven Military Child of the Year® Award recipients will be flown with a parent or guardian to Washington, D.C., and recognized at the April 18 gala, where they will receive $10,000 each and a laptop computer. The recipient of the Military Child of the Year® Award for Innovation will also receive donated business expertise in bringing their creative solution to market.
Previous recipients remember their Military Child of the Year® Award as both an honor and an amazing experience.
"Working hard to be extremely involved can be difficult because oftentimes I would question whether or not it was all worth it. When I found out I won, I was in awe. It gave me a realization that hard work does really pay off. It was an opportunity and moment I will never forget," said 2018 National Guard Military Child of the Year® Aaron Hall of Coarsegold, Calif.
The 2018 Coast Guard Military Child of the Year®, Roark Corson of Virginia Beach, Va., said, "I was both honored and humbled to receive such a prestigious award, and extremely proud to represent the resilient and resourceful military dependents across the world."
For more information about the Military Child of the Year® nomination process, visit http://www.militarychildoftheyear.org.
About Operation Homefront: Founded in 2002, Operation Homefront is a national nonprofit organization whose mission is to build strong, stable, and secure military families so that they can thrive – not simply struggle to get by – in the communities they have worked so hard to protect. Recognized for superior performance by leading independent charity oversight groups, 92 percent of Operation Homefront expenditures go directly to programs that support tens of thousands of military families each year. Operation Homefront provides critical financial assistance, transitional and permanent housing and family support services to prevent short-term needs from turning into chronic, long-term struggles. Thanks to the generosity of our donors and the support from thousands of volunteers, Operation Homefront proudly serves America's military families. For more information, visit OperationHomefront.org.