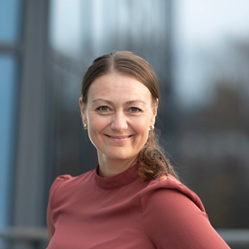 The appointment of Sylvia as Chief Product Officer only reinforces the strength of our market position. She has a proven track record developing category-defining solutions that scale across markets, and we're thrilled to have her aboard.
TRONDHEIM, Norway (PRWEB) November 17, 2022
Nomono, the pioneering developer of audio recording and collaboration tools designed to help podcasters and journalists tell immersive audio stories, today announced it has named seasoned technology executive Sylvia Brudeli as Chief Product Officer. The appointment comes on the heels of the company closing a NOK 35-million ($3.6M USD, €3.55M) investment round led by Schibsted Ventures, enabling Nomono to scale the market for its podcasting and spatial audio solutions.
Sylvia will be responsible for overseeing the Nomono product portfolio, which is poised to revolutionize the capture and editing of high-quality, on-the-go, spatial audio for podcast creation. Specific responsibilities include the management of all software and hardware product development; leading the company's growing product team; and defining and implementing the company's strategic product roadmap.
"Podcast creation is at an all-time high and predicted only to continue its exponential growth for the foreseeable future; despite seeming market maturity, we still very much appear to be at the dawn of the podcast revolution," said Jonas Rinde, CEO of Nomono. "Nomono is perfectly-suited to capitalize on this explosive growth, and the appointment of Sylvia as Chief Product Officer only reinforces the strength of our market position. She has a proven track record developing category-defining solutions that scale across markets, and we're thrilled to have her aboard."
Sylvia joins Nomono with twenty years of experience in product development, most recently as Product Manager at Telenor Digital, a software company that accelerates the modernization of the telecommunications industry. Throughout her previous roles, Sylvia has developed a strong design thinking mindset and plans to bring that approach to Nomono.
"Creating industry-changing technology is all about solving the most pressing problems for consumers, and that's exactly what Nomono has done with its Nomono Sound Capsule and the Nomono Cloud," added Brudeli. "Nomono has developed simple-to-use products that will revolutionize the podcasting market, and I look forward to working with an already stellar product team to continuously create products that push the boundaries of podcast recording and content creation."
The Nomono Sound Capsule is a cloud-connected, self-contained recording kit for capturing audio recordings in the field and designed specifically for professional podcasters and broadcast journalists.
It includes a Wi-Fi enabled recorder that combines four ultra-compact wireless lavalier mics with a 360-degree spatial audio microphone array and weighs less than 4 pounds.
The Nomono Sound Capsule connects seamlessly to the Nomono Cloud, an online audio collaboration tool where content creators backup their recordings, collaborate with their production team, and apply AI-powered dialogue enhancement processing to ensure their audio sounds the best it can before starting the editorial process.
With unparalleled portability and ease-of-use, Nomono's combined solutions are revolutionizing how professional-quality audio is created. Unlike current podcasting workflows that depend on separate field recorders, microphones, mixers, and accessories, Nomono offers a portable, all-in-one field recording solution built specifically for podcasters and journalists that automatically uploads recordings to an intuitive cloud-based audio collaboration and preparation tool.
"With the Nomono Sound Capsule and Nomono Cloud, on-the-go podcast recording has never been easier and simpler – and has never sounded better," concluded Brudeli. "However, this is just our first step in what will no doubt be a long journey to transform the market for audio content capture for podcasting and beyond."
For more information on Nomono, visit here. Click here for hi-res photography.
About Nomono
Nomono's mission is to simplify podcasting and redefine the listening experience by enabling anyone to record immersive audio with uncompromising quality and ease. Founded in 2019 as a spinoff from SINTEF Digital, Nomono's goal is to provide storytellers and content creators with audio workflows that are smart, simple and deliver excellent sound, while making it effortless to incorporate object-based spatial audio into their craft. Nomono is headquartered in Trondheim, Norway, with satellite offices in Oslo and New York. For more information, visit https://nomono.co.