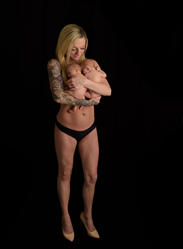 "We're thrilled to fund KGM Nutrition in its mission to empower women to live their best lives, and expand their market reach and product offerings," - Andrew D'Souza, CEO and co-founder, Clearco.
TORONTO (PRWEB) October 13, 2021
Clearco, the world's largest e-commerce investor and the company revolutionizing the way founders grow their businesses, today announced that its ClearAngel program is funding KGM Nutrition, a fitness & lifestyle start-up geared towards allowing women to achieve wellness goals. ClearAngel gives early-stage founders access to revenue share capital, data-driven advice, and Clearco's extensive network of apps, agencies, and investors.
Founded in 2016, KGM Nutrition upholds non-deprivation dieting principles that provide guidance for women to lose weight while still indulging in activities such as consuming wine and desserts - typically considered "taboo" in conventional diets. One tenet of KGM Nutrition is to enable new mothers to get their body back in shape postpartum. Founder Kathryn Morrow, MSc has 20 years of personal training experience and an MSc in Nutrition with a specialty in Weight Loss. She put her own expertise to the test in getting back to top physical condition after giving birth to her twin girls and baby boy. While KGM Nutrition has had tremendous success in transforming the lives of countless women across the Greater British Columbia, ClearAngel will help the company reach a wider audience in Canada and beyond.
ClearAngel is one of a few equity-free, flexible capital options for early-stage founders who don't have the network to raise an angel round or join exclusive accelerators. The program has already funded over 350 companies since its February 2021 launch.
"We're thrilled to fund KGM Nutrition in its mission to empower women to live their best lives, and expand their market reach and product offerings," said Andrew D'Souza, CEO and co-founder, Clearco. "There's tremendous potential for KGM Nutrition to grow exponentially. Investing in such early-stage businesses is at the heart of what we do."
In addition to $10,000 of flexible capital, KGM Nutrition will also get access to a network of more than 500 investors, growth teams, agencies, apps, lawyers, and buyers; and data-driven advice designed to help scale and hit new revenue milestones. Besides expanding their market, KGM Nutrition aims to take advantage of Clearco's resources to expand product offerings through launching five new supplements each month and enhancing business operations via an e-commerce platform switch to aid in efficiency and provide a better customer user experience.
"This funding has been a boon for us to reach soaring heights. We've already transformed so many women's lives, but now we'll be able to reach even more women, expand our offerings, and efficiently provide the best experience for our customers," said Morrow. "We aim to empower women to not only look their best, but also feel their best and show up in the most positive way for their families, friends, colleagues and others by taking back a small part of their day for themselves."
To learn more about KGM Nutrition and experience their fitness programs, nutritional supplements and more, please visit kgmnutrition.com.
ClearAngel is currently onboarding E-commerce and product companies, and has limited spots available for SaaS, Apps, marketplace and stealth companies. To learn more about applying, visit angel.clearbanc.com.
About Clearco:
Co-founded as Clearbanc in 2015 by Michele Romanow from Canada's Shark Tank (Dragons' Den), Andrew D'Souza, Ivan Gritsiniak, Charlie Feng, and Tanay Delima, Clearco offers the most founder-friendly capital solutions for e-commerce, mobile apps, and SaaS founders as well as a full suite of products and access to a powerful global network, insights and data, and recommendations. Clearco has invested over $2 Billion in over 4,500 companies to date, including Leesa Sleep, fashion-rental service Le Tote, home goods company Public Goods, shirtmaker UNTUCKit, online speech therapy practice Expressable, and digital real estate marketplace SetSchedule. For more information visit clear.co and @getClearco.