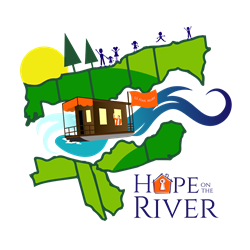 "Throughout our nation's history, the Mississippi has been a gathering point for communities, hope, and prosperity,"
ST. PAUL, Minn. (PRWEB) August 25, 2020
Today marks 2 days until Erich Mische, Executive Director of Spare Key, begins his journey down the Mississippi River. He knows that his charity, like that of thousands of others, is facing a dire future because of the impact of the COVID-19 pandemic on the economy.
In a desperate bid to keep the non-profit afloat, Mische will embark on an 1,700 mile, two-month, ten state journey on a homemade raft christened the "S.S. Hail Mary."
"Hope On The River" will commence on Thursday, August 27th as Mische boards the "S.S. Hail Mary" at Harriet Island in St. Paul, Minnesota. Mische will spend nearly two months drifting on the river to raise funds and awareness about Spare Key and its mission to help families facing a medical crisis by helping provide funds to pay their bills.
LendSmart Mortgage, http://www.lendsmartmortgage.com, has come aboard the trip as the Presenting Sponsor of "Hope on the River".
Mische, who admits he is "…afraid of the dark and scared of wild animals…", will eat, live and sleep on the raft for nearly two months. He will combine a call to raise funds for Spare Key, with a desire to share his journey with school children throughout Minnesota, Wisconsin, Iowa, Illinois, Missouri, Mississippi, Tennessee, Kentucky, Arkansas and Louisiana and share a message of hope to those facing a medical crisis throughout the trip.
The S.S. Hail Mary raft is being built by family and friends and the trip is being supported by donations of time, money, and resources. It will drift slowly through the middle of America and carry with it one organization's commitment to help America and families "Bounce and Not Break."
"Throughout our nation's history, the Mississippi has been a gathering point for communities, hope, and prosperity," Mische said. "During this journey down the Mississippi, we are asking for people from every walk of life to once again gather at the banks of the river to support their neighbors and communities in need. And to recognize that no matter what may divide us today is nowhere near as powerful as what binds us together as Americans."
Founded in 1997, Spare Key has served over 4,000 families with nearly $4 million in housing and housing related expenses.
Today, the organization is registered to serve families through its http://www.HelpMeBounce.org platform in 46 states. Of the 10 states Mische will drift through, Spare Key is registered to serve families in 9 of them. The last state on his trip, Louisiana, will also be the last of the 50th states Spare Key will submit paperwork to complete its commitment to help families "Bounce and not Break" across the nation.
"Spare Key, like thousands of non-profits, has been severely impacted by the effect of COVID-19 on the economy," said Mische. "Every event scheduled for this summer except for one has had to be cancelled or postponed. Waiting for something better to happen to change the trajectory of the troubled economy's impact on charitable giving is not an option. We're not going to go down without a fight. The fight begins today and continues for nearly two months the minute I get on the "S.S. Hail Mary" and won't end until I arrive in Baton Rouge, Louisiana."
Individuals can support the Hope on the River journey through sponsorships, education, empowerment, pledges, donations, and scholarship funds. To donate, become involved, or learn more, visit http://www.HopeOnTheRiver.com.
Those wanting to support the organization financially can also donate $5.00 by texting the word "RIVER" to 52000.
About Spare Key
Spare Key is a Minnesota-based non-profit that serves families with a critically ill or seriously injured family member. No matter the illness, no matter the injury, no matter the income. Spare Key helps families "Bounce and Not Break" through their Help Me Bounce platform, harnessing the power of crowdfunding to connect thousands of families directly to donors.
Since 1997, Spare Key is proud and privileged to have served over 4,000 families with nearly $4 million in financial assistance.
To learn more, please visit http://www.HopeOnTheRiver.com