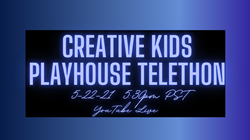 I assumed we would be back within 3-4 weeks. I had no idea that a year later, I would be sitting here in our theater location, still unable to have live audiences.
MISSION VIEJO, Calif. (PRWEB) May 17, 2021
On May 22, 2021 at 5:30pm, Creative Kids Playhouse (CKP) a 501(c)3 nonprofit organization that provides professional theater education to children throughout Orange County, California, will livestream a Telethon via YouTube to help their theater raise funds needed to survive the pandemic and continue providing quality arts education.
Pre-pandemic, Creative Kids Playhouse (CKP) produced over 35 shows a year, serving an estimated 1,400 students and 10,000 audience members. For the past 10 years, they have operated by renting theater spaces to perform; rehearsing in yoga studios and elementary school MPRs. In July 2019, Creative Kids Playhouse (CKP) signed a lease on a warehouse that they had finally fundraised enough money to remodel into their theater home.
Then the pandemic hit.
For the past year, Creative Kids Playhouse (CKP) has been forced to spend almost all of the remodel money they had saved on rent alone. Co-founder Michele Sheehy-Bowren said, "I assumed we would be back within 3-4 weeks. I had no idea that a year later, I would be sitting here in our theater location, still unable to have live audiences."
In 2021, Creative Kids Playhouse (CKP) has been faced with the following choices:

Shut down the theater permanently
Move out and return to rental spaces (still obligated to pay three years of rent left on their lease)
Rely on the support of their community, fundraise, and figure out a way to remodel the Mission Viejo warehouse into their theater home.
Maryclare Ramirez has grown up inside the safety of Creative Kids Playhouse. She was recently accepted into Texas Christian University's Theatre Program. "To shut down the theater permanently would impact thousands of children's lives who have found passion and acceptance through Creative Kids Playhouse," states Ms. Ramirez. "Closure is not an acceptable option to me, which is why I am donating a significant amount of my time to fundraise and help produce this Telethon. This organization, it's work and the people matter. Performing arts is a way for children to express themselves and CKP gives children the same opportunity that I had to receive a high quality theater arts education in a safe, nonjudgmental atmosphere. Creative Kids Playhouse truly accepts every child just as they are. Anyone that walks through the doors of our theater can feel the love just bouncing off the walls. That's what makes this theater company unique. The community is unparalleled, and the productions and the training each student receives are stellar. I would not be anywhere near close to where I am today, pursuing a professional career in theater arts, without the experience I received from Creative Kids," said Ms. Ramirez.
Lovers of the arts and supporters of arts education will not want to miss this fabulous event. "I'm really excited for the future that we have ahead of us. I feel like it's there, I can see the light at the end of the tunnel, the doors are part way open and we are so close," said CKP Co-Founder Michele Sheehy-Bowren.
The Creative Kids Playhouse (CKP) Telethon will be entertaining for all ages; will star Broadway and off-Broadway performers in addition to some of their most talented students, teachers, and friends. Performers of all experience levels will be featured. Viewers of the Telethon will be able to call in and make personal contributions to the children's theater.
To view and attend Creative Kids Playhouse Livestream Telethon on May 22, 2021 at 5:30pm, visit their YouTube channel on May 22, 2021 at 5:30pm.
For those interested in helping to financially support quality arts education, please contact Michele Sheehy-Bowren at 949-297-6257 via phone call or text message or visit CKP's donation webpage to learn more.
About Creative Kids Playhouse Children's Theatre of Orange County
Creative Kids Playhouse is a 501(c)3 nonprofit organization dedicated to providing quality theater education in a fun and encouraging atmosphere. Their mission is to provide children the opportunity to experience the exhilaration and educational benefits of performing with an acting troupe. In February, 2019, they proudly produced their 200th production and in July 2021 they will celebrate their 10 year anniversary. CKP offers a variety of programs, both online and in their theater, including two-act productions, one-act musicals, workshops, Summer camps and classes. In January 2016, they held their first annual Children Achieving Theatre Excellence (C.A.T.E.) Awards to recognize the achievements of their students. As an education-based program, a child's experience is their highest priority. CKP ensures every child has a meaningful contribution to the show and a purpose on stage. They strive to ensure actors receive a balanced education through varying sized roles. And, all scripts are thoughtfully reviewed for age-appropriate, meaningful and character-building lessons for the actors. Every child is welcome to enroll. Actors are not expected to arrive at auditions with theater education, that is their job. CKP encourages creativity, teamwork, empathy, responsibility, kindness, inclusiveness and volunteering in their actors.
Timeline of CKP's History:

July 2011 - founded by Michele Sheehy-Bowren and Elizabeth Ramirez
November 2011 - the Princess and the Pea, first ever production
June 2016 - the Wizard of Oz, Young Performer's Edition - 100th production
January 2016 - first ever Children Achieving Theatre Excellence (CATE) awards, beginning of fundraisers for theater location buildout
July 2019 - signed lease in theater space
March 2020 - COVID hits, decreasing revenue by 75%