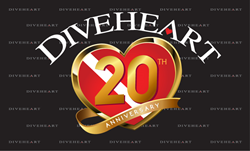 "Diveheart has helped shape the future of scuba therapy for people, not just with disabilities, but all abilities, and it is an honor to be a leader in the adaptive dive community and partner with businesses and organizations around the world to further that mission,"
DOWNERS GROVE, Ill. (PRWEB) May 17, 2021
Diveheart, a Downers Grove-based nonprofit tax-exempt 501(c)(3) organization, is celebrating its 20th anniversary of helping children, veterans and others with disabilities through adaptive scuba and scuba therapy.
Diveheart's goal is to help revolutionize rehabilitation by using zero gravity underwater to help those with everything from mobility issues to chronic pain and post-traumatic stress disorder. Founded in 2001 by Jim Elliott and overseen by Diveheart Executive Director Tinamarie Hernandez, Diveheart provides adaptive scuba diving programs open to any child, adult or veteran with a disability. Underwater, the weightless wonder of the water column gives wheelchair users and others with disabilities freedom from gravity where their chronic pain evaporates. Through these programs, participants develop confidence, independence and self-esteem, as well as other physical and psychological benefits.
"Diveheart has helped shape the future of scuba therapy for people, not just with disabilities, but all abilities, and it is an honor to be a leader in the adaptive dive community and partner with businesses and organizations around the world to further that mission," said Hernandez.
As part of its 20th anniversary, she said Diveheart is launching a 20 for 20 fundraiser to continue to support its programs. She hopes to reach her goal of raising $20,000.
"One out of five people in the world have a disability, and millions of people around the world suffer from chronic pain," Hernandez said. "Millions more find relief in the water through aqua therapy. The nonprofit Diveheart takes that relief one step further through scuba therapy and will continue to do this with donations from the public and other partners."
Throughout the years, Diveheart continues to help facilitate cutting edge scuba therapy research with university medical centers around the country, and has the most innovative adaptive scuba training program in the world for scuba instructors and dive buddies who want to learn to work with people with disabilities underwater on scuba.
Its efforts and programming have been recognized. Recently, Diveheart was a winner in
the 2020 Sharecare Awards in the category of Healthy Living for Diving Past Boundaries Sharecare in association with The National Academy of Television Arts & Sciences, New York Chapter.
A big 2021 goal, Elliott said, is for Diveheart to get a gift of land so that it can build the world's deepest warm water therapy pool to replicate some of the benefits of scuba therapy that it sees in open water environments.
"It is our hope with this new facility that we will revolutionize rehabilitation not just for people with disabilities but people of all abilities," he said.
Find out more at http://www.Diveheart.org.
About Diveheart:
Diveheart is a nonprofit tax-exempt 501(c)(3) organization. The purpose of Diveheart is to provide and support educational scuba diving programs that are open to any child, adult or veteran with a disability, with the hope of providing both physical and psychological therapeutic value to that person. We have discovered the forgiving weightless wonder of the water column provides the perfect gravity-free environment for those who might otherwise struggle on land. Underwater, we're all equal. Diveheart works with individuals who have a variety of disabilities, including physical and developmental disabilities, vision and hearing impairments, amputations, traumatic brain injuries, Post Traumatic Stress Disorder and more. Diveheart seeks to help its participants "Imagine the Possibilities" in their lives. For information, visit http://www.diveheart.org.