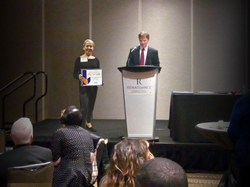 "The eMentors should be very proud of NTI's induction to the Susan M. Daniels Mentoring Hall of Fame. They are dedicated to making sure their mentees succeed. They are the most patient, selfless, and empathetic group of individuals I have ever worked with." Nicole Pacheco, eMentor Team Lead
BOSTON (PRWEB) February 04, 2019
NTI was honored to be one of only five organizations inducted into the Susan M. Daniels Disability Mentoring Hall of Fame in 2018. A ceremony commemorating the induction was held in Washington D.C. on January 29th at the Renaissance Washington Hotel. Judith Heumann, world renowned human rights activist, and Diego Mariscal, founder and CEO of 2gether International, were the emcees for the evening. All the 2018 inductees into the Hall of Fame are committed to improving lives of individuals with disabilities through mentoring and inclusion.
Susan M. Daniels was a tireless disability rights advocate throughout her life. During her time as the Deputy Commissioner for Disability and Income Security Programs at the Social Security Administration (SSA), she changed the face of disability politics. As a woman with a disability, Daniels broke through barriers, showing that people with disabilities can and should work. Of all her many achievements, the Ticket to Work program from the SSA stands out for changing the lives of more than 11 million Americans.
As an official Employment Network of the Ticket to Work program, NTI exists today as a non-profit due to legislation Daniels championed. During the Clinton administration, she worked to create employment incentives and remove workplace barriers for Americans with disabilities, resulting in the Ticket to Work program. The Susan M. Daniels Disability Mentoring Hall of Fame was founded in 2015 to posthumously honor Daniels for her many contributions, including personally breaking through barriers the disability community faces when seeking employment. Sponsored by the National Disability Mentoring Coalition (NDMC), the Hall of Fame brings together mentors from across the nation to recognize their efforts.
NTI's mentoring program began in 2016 to provide support and guidance for adults applying for at-home customer service positions through NTI@Home. Lynda Gardner, then Director of Human Resources at NTI, was tasked with starting an eMentoring team from scratch. The role of eMentors has evolved tremendously in the two years since Gardner was made Associate Director of eMentoring. "In the beginning, I just hoped to find eMentors with high emotional intelligence who could relate to the people NTI was serving," Gardner says. "But now, my team consists of highly trained professionals, most of whom have advanced degrees. Many come from vocational rehabilitation, nursing, and HR backgrounds. My team is great, and every day brings another success." Scattered across the U.S., the one thing all eMentors have in common is personal experience working with a disability. They provide support and guidance from the time someone first contacts NTI@Home all the way through a successful at-home job placement and beyond. To date, NTI eMentors have helped more than 2,000 people complete NTI's free training and more than 400 of those find employment.
Although thrilled by NTI's induction into the Hall of Fame, Gardner says she is not surprised by it. Few programs exist to mentor adults with disabilities seeking to reenter the workforce, so NTI stands out in the crowd. Gardner hopes to see more organizations offer mentoring services to adults in the future. Nicole Pacheco, eMentor Team Lead said, "The eMentors should be very proud of NTI's induction to the Susan M. Daniels Mentoring Hall of Fame. They are dedicated to making sure their mentees succeed. They are the most patient, selfless, and empathetic group of individuals I have ever worked with."
To learn more about NTI, visit them online at http://www.nticentral.org or call Michael Sanders at 857-772-7614.
About NTI: National Telecommuting Institute. Inc (NTI) is a 501 (c)(3) (http://www.nticentral.org) non- profit organization with headquarters in Boston, MA. It has been supporting Americans with disabilities since 1995. NTI provides training and job services in work at home positions across the United States through their NTI@Home and LandAjob.org programs. NTI pioneered staffing virtual call centers with Americans with Disabilities, including Disabled Veterans, who work from home.
About the National Disability Mentoring Coalition: The Coalition aims to raise awareness about the importance and impact of mentoring in the lives of people with disabilities and to increase the number and quality of disability mentoring programs around the country. Learn more and apply to join the Coalition at: http://www.disabilitymentors.org.