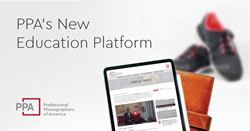 Especially now, we want our members to feel supported and empowered to make the best decisions for themselves and their businesses.
ATLANTA (PRWEB) July 07, 2020
The largest, long-standing nonprofit trade association for photographers announced today the launch of its redesigned online education platform. Professional Photographers of America (PPA) unveiled an improved user interface and user experience, complete with structured curriculums that allow members to complete assignments and track their individual progress.
Other new features allow learners to create their own playlists of their favorite videos or to explore the platform's "Deep Dives," which give photographers in-depth overviews of subjects including branding, marketing, entrepreneurism, and sales. A sizable portion of the content is also available to non-members who create a guest account on PPA.com.
With over 900 individual tutorials taught by more than 150 instructors, the nonprofit's educational resources have long been a central part of its member benefits. The organization originally established a professional school called the Winona International School of Professional Photography, which opened in 1921, and quickly became famous for its instruction.
PPA made its learning resources available to members online in 2013. The initial offering of 170 videos was met with positive feedback from members, and the library of classes has only grown and diversified in subject matters since then.
"The website's new interface and functionalities take the huge library of existing material and makes it more accessible to our members, no matter what type of learner they are or what stage of their career they're in," said Angela Kurkian, PPA Director of Education. "One of the things that make PPA's education stand out is that it is truly comprehensive; the quality and quantity of instructors ensures every user will find information to improve their business and craft."
In addition to its online resources, the association also offers members learning opportunities with its workshops and image competitions, through which participants can earn merits towards one of PPA's four professional degrees.
Founded in 1868, PPA has undergone numerous changes during its existence, most recently with updates to its member benefits, a restructured board of directors with four new board members, as well as a new logo and website.
Throughout its long history and numerous changes, the organization keeps its members at the forefront of their mission. Amid the COVID-19 pandemic, PPA is giving substantial relief to its members in the form of waived membership dues, an education voucher, and information about PPP loans. In all, the nonprofit has given its members over $3 million in assistance through its In It Together initiative.
"The new education platform is all part of PPA's commitment to fostering lifelong learning among our 30,000 members," said Kristen Hartman, PPA Director of Membership. "Especially now, we want our members to feel supported and empowered to make the best decisions for themselves and their businesses."
About PPA:
Professional Photographers of America (PPA) is the largest and longest-standing nonprofit photography trade association. Founded in 1868, PPA helps around 30,000 professionals elevate their craft and grow their business with resources and education, all under PPA's core guiding principle of bridging the gap between photographers and their consumers. To find out more about PPA, go to PPA.com.