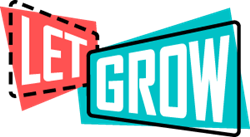 "That's because you don't have to be a Republican or a Democrat to want kids to be able to play outside without mom and dad living in fear of neglect charges," said Lenore Skenazy, President of Let Grow.
NEW YORK (PRWEB) January 20, 2022
Let Grow, a nonprofit promoting childhood independence, declares 2022 "The Year of Childhood Independence." This year, parents in three states could get the biggest gift of all: the right to let their kids walk, play outside, or stay home alone for a bit, without worrying that this is against the law.
Colorado, Nebraska, and South Carolina legislators will all consider bills modeled on the "Reasonable Childhood Independence" laws passed in Texas and Oklahoma last spring (and in Utah in 2018—the so-called "Free-Range Parenting" law). At this point, fully 10% of American parents enjoy legal protection for letting their children play unsupervised.
The bills passed to date had overwhelming support from both parties—a rarity these days.
"That's because you don't have to be a Republican or a Democrat to want kids to be able to play outside without mom and dad living in fear of neglect charges," said Lenore Skenazy, President of Let Grow, a national nonprofit promoting childhood independence.
An earlier version of the bill had passed Colorado's House of Representatives unanimously in 2020, but then the COVID-19 pandemic shut down the Senate. Similarly, South Carolina's Senate had passed the bill before the pandemic.
Let Grow believes that children are safer and smarter than our culture gives them credit for. Plummeting numbers of kids outside and a rising epidemic of obesity and mental health issues are partly due to children not being allowed to play or be almost anywhere without mom or dad hovering. Unfortunately, it's not uncommon to have child protective services or the police called when children age 8, 10, or even 12 are outside without an adult.
Let Grow's study of all 50 states' neglect laws found that in 2021, 45 were insufficiently clear as to whether, for example, a child could be labeled "neglected" simply because they walked from the store by themselves.
The organization's legislative docket has been adopted by advocates across the political spectrum. Conservatives appreciate the right of families to make parenting decisions without excessive governmental interference. Liberals and Progressives, recognizing that child protection laws are applied disproportionately to persons of color and poor families struggling to make childcare arrangements, appreciate the less punitive law, too.
In Nebraska this month, Republican Sen. Ben Hansen of Blair will be joining forces not just with Libertarian, Conservative, and home-school advocates, but also with Nebraska Appleseed—a Progressive public interest organization—in support of LB1000. In addition, Sen. Terrell McKinney and Sen. Justin Wayne, two Progressive senators who represent northern Omaha, are sponsoring the bill.
In Colorado, Democrats and Republicans have lined up again to promote the bill that nearly passed in 2020. This time, Republican Rep. Kim Ransom (Douglas County) will again co-sponsor the bill, now with Democrat Rep. Mary Young (Greeley), a school psychologist. In the Senate, Democrat Janet Buckner (Aurora) will co-sponsor it anew, joined by Republican Jim Smallwood, also from Douglas County.
In South Carolina, Republican Sen. Wes Climer (York County), is joined by Republican Sen. Greg Hembree (Horry County). The state has seen a number of high-profile cases where parents have been reported and even thrown in jail for letting their kids play in the park or walk home from school—even when the children were eager to manage for themselves.
"Whenever I ask people to remember something they loved doing as kids, I say, 'Now raise your hand if your mom was with you.' The hands all come down," said Skenazy.
To learn more about Let Grow, please visit https://www.letgrow.org.
About Let Grow
Let Grow is a nonprofit promoting childhood independence as the key to resourcefulness and resilience, founded by Free-Range Kids pioneer Lenore Skenazy, research psychologist Dr. Peter Gray, former chairman of the Foundation for Individual Rights in Education Daniel Shuchman, and NYU Prof. Jonathan Haidt, co-author of "The Coddling of the American Mind." Let Grow's thought leadership, school programs, research, writing, speaking and legislative advocacy give parents, educators, and communities the tools and confidence to step back, so kids can step up. Let Grow has been featured in The New York Times, NPR, The Wall Street Journal, Armchair Expert with Dax Shepard, PBS and more. To learn more about Let Grow, visit http://www.letgrow.org.