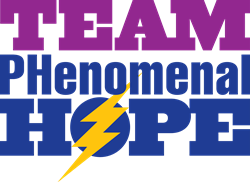 I hope I can say years from now that Team PH is the reason we found a new therapy for PH
BELOIT, Wis. (PRWEB) January 30, 2020
Nonprofit organization Team PHenomenal Hope is proud to announce the second year of the PHenomenal Impact Fund for Global PH Research. The organization is asking for submissions in clinical/translational pulmonary hypertension research projects. Letters of intent (LOI) will be accepted starting on Wednesday, January 29, 2020.
The Team PH research award program rewards studies of basic science, translational science or clinical research/need in the field of rare lung disease pulmonary hypertension (PH). As such, this program provides opportunities for individuals to affect the quality of medical care and improve the lives of patients with PH.
The program was created by Team PH; it provides awards of $50,000 to investigators during a 12-month period. The awards are chosen by the organization's Research Award Steering Committee based on scientific merit, originality, feasibility, and/or clinical applicability to the diagnosis and treatment of patients with PH.
The organization is thrilled to continue advancing progress to better treat and eventually cure PH. 2019 award recipient Dr. Vineet Agrawal shares, "Receiving an award from the PHenomenal Impact Fund meant a lot to me as a young investigator. Not only did it provide funding that has made my ongoing research possible, but it also felt extra special to receive validation of our work from the very people who are directly affected by PH: the patients and providers. I hope I can say years from now that Team PH is the reason we found a new therapy for PH!"
The proposal must be deemed achievable within the one year time frame and within the noted fiscal allocation. LOIs are due February 29, 2020. Eligibility extends not only to the United States, but also to countries who have an established Team PHenomenal Hope presence, including Belgium, Brazil, Germany, Mexico, and South Africa. LOIs must be submitted by Saturday, February 29, Rare Disease Day, and the winner of the award will be announced at the International Conference of the American Thoracic Society in Philadelphia on Monday, May 18.
To learn more about eligibility, the timeline of the application process, and to apply, visit http://www.teamphgrants.org. For any questions please email research@teamphenomenalhope.org or call 877-646-4673 extension 101.