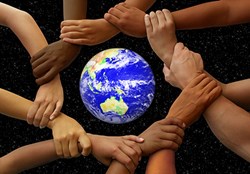 The sad truth is that hunger, disease, homelessness and despair know no boundaries and thus affects all races, all colors, all castes and all creeds. In essence, humanity is a part of the cause, and therefore too, part of the solution.
(PRWEB) August 26, 2013
Shawn Rae and his team have announced an upcoming November, 2013 challenge all over the world to everyone to commit just one random act of kindness, to try to help someone that is truly in need. All one has to do is take a sincere look around every city and town, and easily find someone in need. Every corner of the globe provides numerous opportunities for one to come to the aid of another who is in dire straits and in need of a helping hand. The simple deed of just one random act of kindness per person could go a long way in alleviating millions of citizens' darkest moments. The act itself may also be a precursor to a grateful heart for the giver and the possibility of even a second 'not so random' act of kindness.
These ideas are nothing new, yet they rarely appear to be applied by most people as they run about with their individually demanding schedules. The concept of a random act of kindness is being reintroduced here due to an event that changed one person's life.
When Shawn Rae was a child of 6 years of age in the Himalayan regions of the sub-continent of Pakistan and India he witnessed an event that forever changed his life. He recounts: "when our convoy arrived at our destination, there were throngs of barefooted people in filthy tattered clothes. There were old men, wearing thin wrappings about their lower bodies, their skin, dirty, leathered, dried out and wrinkled from the severe effects of the sun. There were those unrecognizable as women, with clothes all bedraggled and torn. There were no accessories to adorn them, no finery or polish, just thin coverings for their heads to shield them from the searing heat of the scorching sun. Some of them, those appearing younger, were holding fast to their ragamuffins – those little unkempt children who looked old far beyond their years. Many of them, adults and children alike, were crying, grabbing, clutching and clawing at the things being tossed from the lorries that were part of our convoy. Suddenly, one of the objects being thrown at the crowd went astray and landed directly at my feet. I stooped to pick it up, to help, to be a part of what was being given. To my disgust what I assumed to be food was in fact, an old stale piece of bread with furry greenish mold on its edges. Just then, coming towards me, I saw a small, frail boy dragging his physically challenged body sideways on the ground. As he reached me, his pained face forced a smile in hope of receiving the piece of bread in my hand. I quickly placed it in his outstretched tiny arm. He eagerly clutched it and hastily struggled back towards the wretched crowd. My eyes continued to watch him as he handed the piece of bread to a woman holding a sickly baby cradled in one arm, while a weeping little girl clung to the other. To this day, I can still remember the look of extreme pain and suffering on the face of the unfortunate woman, as she stoically struggled to shield her innocent children from the turmoil and tragedy that had befallen them. That evening at dinner I did not feel hungry. The harsh inequities of life that I had witnessed in the events of the day had shattered the innocence by which I viewed my comparative sheltered existence. I knew then unequivocally that I had to somehow, someday, be a part of something that would work to alleviate such misery amongst my fellow men and fellow women."
Over 4 decades later, still a student of life, Shawn's understanding to date is derived, apart from the influence of Christian, Hindu, Sikh, Muslim, Jewish, Tibetan and Chinese ancestry inherited from his forebears, and from a compilation of writings, conversations and observations that he learned from many cultures, traditions, religions, as well as from both Eastern and Western philosophies. He has found that the only way to alleviate the ills that exist globally is to collectively live in Oneness. The sad truth is that hunger, disease, homelessness and despair know no boundaries and thus, affects all races, all colors, all castes and all creeds. In essence, humanity is a part of the cause, and therefore too, part of the solution.
The challenge then is to awaken the true potential for goodness and greatness in all humanity, and to realize that change first begins with each individual. By joining in the team's challenge and performing one random act of kindness, individuals may begin to plant seeds for positive change that may put a dent in the suffering being experienced by so much of humanity. In so doing, the great heights of love and compassion engendered may infuse a deeper sense of caring and commitment and ultimately lead all to a higher purpose and a grander vision – one that better serves the needs of humanity – on this one small planet.
Shawn Rae is a humanitarian, speaker and international recording artist who is committed to share his resources, time and effort in supporting causes that alleviate homelessness, hunger, disease and despair.
For more information: Shawn Rae Video Bio 2013: http://youtu.be/jBt9I3g362Q and at http://www.ShawnRae.com .