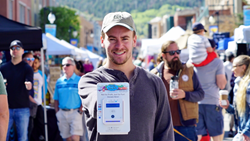 "We value nonprofits and their charitable work. Our rental program saves expensive product costs, while increasing donation opportunities."
SALT LAKE CITY (PRWEB) March 11, 2020
In a class of its own, Karma Payments provides nonprofit organizations with technology unavailable elsewhere in the industry. This includes cashless payment device rentals—no other company has this option. Ideal for donations at special events, Instant Karma invites instant philanthropy for charitable causes by securely accepting mobile pay and all major cards. It is small enough to be handheld and can be rented daily, weekly, or monthly. Organizations may customize their device to spark brand awareness.
Advantageous year-round, Instant Karma particularly flourishes for spring fundraisers. Donations can be made anytime, anywhere—on trails, in parks, city plazas—attended or unattended. Think 5K races, charity golf tournaments or softball games, school or craft fairs, silent auctions, plant, bake, or book sales, garden galas, community festivals, pet parades, Memorial Day benefits, Earth Day celebrations…the sky is the limit.
Renting is a smart choice for short-term payment processing needs. It is cost effective (why purchase a device for one-time use?) and worthwhile for optimal fundraising (cashless giving raises the average cash donation amount by 300 percent. Some nonprofits have seen a 600 percent increase).
Two weatherproof, easy-to-use models are available to rent. No login or lengthy setup necessary, simply power on and donations can be made.
Tabletop:
Designed for use in a fixed location (countertop, lobby, market); beneficial in brick and mortar institutions or outdoor areas with access to power.
Mobile:
Accepts donations on-the-go, complete with an ergonomic handle, ultra-light design, and eight hour battery.
Instant Karma uses wireless connections for payments. If no signal is available, up to 1500 transactions can be stored offline and processed once a connection is restored.
"We value nonprofits and their charitable work," says Chris Fleisch, co-founder and vice president, business development, Karma Payments. "To support their worthy efforts, we offer beneficial, cost effective technology. Our rental program saves expensive product costs, while increasing contribution opportunities."
Renters receive the same white-glove treatment as buyers: Top quality products, low cost processing, and impeccable 24/7 customer support. All rentals require a minimum one week contract. If desired, the device may be purchased at any point during the rental process; if prior to the contract's conclusion, the rental fee (not including service fees) will be credited to the purchase. Bulk pricing is available. 
About Karma Payments
Karma Payments' mission is to "Make a Positive and Lasting Impact in the World" by providing secure, purpose-driven, and innovative payment solutions for nonprofit partners, saving expensive processing fees. For more information about Karma Payments, their products, and services visit KarmaPayments.com or contact a nonprofit specialist at support@KarmaPayments.com.