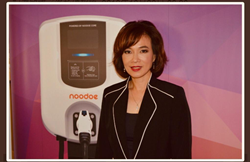 Partnering with Noodoe EV is an excellent strategic fit now and into the future. With Noodoe EVOS, MPG will be able to expand our position in the EVSE sector offering a variety of differentiated products and services
IRVINE, Calif. (PRWEB) August 04, 2020
Noodoe, a global leader in EV charging technology, has partnered with Morgner Power Group to facilitate smart EV charging stations and technology in the US. The announcement was made by Noodoe CEO Jennifer Chang. The agreement gives Morgner's Power Group access to Noodoe EV Level 2 and DC fast-charging stations and Noodoe's advanced EV OS network platform.
"Our partnership with MPG represents a red letter day in the history of Noodoe," says Chang. "MPG specializes in ambitious development, but with sustainability always top of mind. Their engineering, design and installation prowess is second to none. We're proud to work with them to deliver environmentally sound EV charging solutions and our industry-leading Noodoe EV OS to their clients."
"Partnering with Noodoe EV is an excellent strategic fit now and into the future. With Noodoe EVOS, MPG will be able to expand our position in the EVSE sector offering a variety of differentiated products and services," says Paul Lu, President and CEO of MPG. As we approach 350kW charging stations, buffering grid load will become critical for a sustained EVS solution and our relationship with Noodoe EV gives us a significant competitive advantage. Going forward, Noodoe's innovations and technological expertise will assist in solidifying our "One-Stop-Shop, Total Energy Solution" approach for our clients including Power Management, Net Zero Carbon, and Net Zero Energy."
The objective for Noodoe and MPG is to offer a comprehensive system of EV charging solutions. "Noodoe will enable MPG to leverage our core technology - the Noodoe EV OS," says Chang. "The technology, along with our Noodoe EV chargers, will empower MPG customers with "extreme automation," enabling operators the lowest possible operating costs. Controlling and running all EV charging stations, Noodoe EV OS fully automates everything - 24/7 charging service delivery, automatic peak-hour price adjustment, automatic transaction billing, auto payment processing, auto bank transfers, infrastructure diagnostics and intelligent energy management. Operators can generate revenues automatically and continuously."
MPG is at the forefront of sustainable construction projects. Recent projects include the rooftop solar POV installation at Los Angeles Mission Community College and the LA Metro solar roof installation at two MTA bus divisions. The company works with municipalities, energy utility companies, schools, hospitals, military bases, residential and commercial facilities. In addition to EV charging stations (EVCS) and EV supply equipment (EVSE), Morgner delivers fully integrated power management solutions including on and off-grid solar photo-voltaic (PV) systems, PV panels, PV carports, battery storage, and LED lighting systems through their design/build and maintenance services.
About Noodoe, Inc.
Noodoe is on a mission to make the world greener by accelerating the world's transition to electric transportation. In this quest, we produce well designed EV charging infrastructure solutions that help construction, retail, hospitality industries and public sectors be part of the global zero-emission revolution.
Through innovation Noodoe empowers businesses to turn their parking lots into profitable charging stations. We enable hotels to become recharging sanctuaries that attract high-value patrons. The company also provides charging infrastructure, enabling governments and energy companies to build eco-friendly "smart cities." Beyond automobiles, Noodoe's endeavors extend to motorcycles; though innovation we partner with global brands to bring the electric riding experience to consumers worldwide. Noodoe provides products and services used in 110 countries.