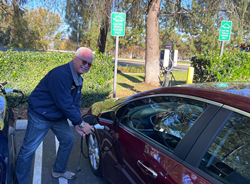 We're excited about our winning bid to provide Diamond Bar with the best EV charging hardware/software at the lowest price
IRVINE, Calif. (PRWEB) December 14, 2022
Noodoe EV, a global leader in EV charging technology, has completed installation of five W1000 chargers for the city of Diamond Bar, California. The announcement was made by Noodoe CEO Jennifer Chang. Diamond Bar is a city in eastern Los Angeles County known for pioneering alternative energy efforts, including building the first hydrogen fueling station in Southern California. The city's latest EV charging stations were installed courtesy of grant money provided by the Air Quality Management District (AQMD).
"We're excited about our winning bid to provide Diamond Bar with the best EV charging hardware/software at the lowest price," says Chang. "Noodoe wants to thank everyone on the city council for helping to make EV charging easily accessible."
Adds Diamond Bar Council Member Steve Tye, "I was really impressed not only with Noodoe's hardware, but their customizable dashboard and futureproof operating system," he says. "Plus, Noodoe has an office in nearby Irvine that supports EV charging installations up and down the West Coast."
Helping Noodoe liaise with local agencies is former California State Senator Bob Huff, who last year joined the company as Director of Government Affairs. According to Huff, government agencies are key to fast EV adoption. "One out of five employees in the U.S. works for the government," says Huff. "That's a lot of potential EV customers. Not to mention the ongoing demand for electrifying police, maintenance, and fire department fleets." Huff is now helping Noodoe and California set the bar for nation-leading EV policies. "What we do here can be spread to Texas, Florida, New York, and Illinois," he says.
About Noodoe Inc.
To accelerate the world's transition to electric vehicles, Noodoe provides the mission-critical network operating system, Noodoe EV OS, that runs the EV charging networks for their operators.
Noodoe EV OS is one of the most advanced cloud-based operating systems today; it is a charging network's "central brain" that runs all the charging stations across multiple locations and automates the entire operation of the EV charging network.
What makes Noodoe EV OS different is the core technology that empowers "extreme automation," which enables the operators to achieve the lowest possible operating cost. Controlling and running all EV charging stations, Noodoe EV OS fully automates everything – 24/7 charging service delivery, automatic peak-hour price adjustment, automatic transaction billing, automatic payment processing, automatic bank transfer, automatic infrastructure diagnostics, and intelligent energy management.
Noodoe provides products and services that are used in 110 countries worldwide.