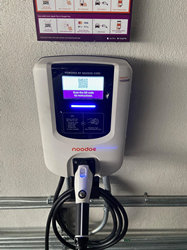 Hotels no longer consider EV charging as a bonus but as necessity, responding to fill accelerating customer demand with advanced charging solutions.
LAS VEGAS (PRWEB) June 23, 2020
Noodoe, a global leader in EV charging technology, is helping to mark the re-opening of the iconic Treasure Island Hotel & Casino with activation of six advanced S1000 EV Charging Stations. The hotel is famous for its world-class location/room views, amazing casino space, in-house Cirque show Mystere and "always-free" parking.
Noodoe is excited to have its advanced EV charging stations and cloud-based Noodoe EVC OS technology featured at Treasure Island, one of the signature destinations on the Las Vegas Strip," says Noodoe CEO Jennifer Chang. "Now guests can easily charge their electric vehicle while seeing a show, having dinner or relaxing at one of T.I.'s luxurious pool-side cabanas. Hotels no longer consider EV charging as a bonus but as necessity, responding to fill accelerating customer demand with advanced charging solutions. For hotels and resort owners, Noodoe EV advanced charging stations offer up a fully automated revenue generator."
Adds T.I. Executive Vice President and GM Najam Khan, "Customer service here at Treasure Island is always our number one priority. We're excited to offer Noodoe EV charging technology to all our guests."
At the heart of the commercial Noodoe EV Charging Station is a future-proof cloud-based "brain" – Noodoe EV OS. What makes Noodoe EV OS different is the core technology that empowers "extreme automation". By automating the business operation, Noodoe EV OS enables the operator to achieve the lowest possible operating cost. Controlling and running all EV charging stations, Noodoe EV OS fully automates everything – 24/7 charging service delivery, automatic peak-hour price adjustment, automatic transaction billing, automatic payment processing, automatic bank transfer, automatic infrastructure diagnostics, and intelligent energy management. It's so automated that the operator practically can just sit back and watch the revenue being automatically and continuously generated – even revenue generation is automatic.
A recent Bloomberg New Energy Finance report predicts sales of electric vehicles will increase from a record 1.1 million worldwide in 2017 to 11 million in 2025 and to 30 million in 2030 as the price of manufacturing the vehicles continues to decline.
About Noodoe EV:
Noodoe EV is on a mission to make the world greener by accelerating the world's transition to electric transportation. In this quest, we produce well-designed EV charging infrastructure solutions that help construction, retail, hospitality industries, and public sectors be part of the global zero-emission revolution.
Through innovation, Noodoe empowers businesses to turn their parking lots into profitable charging stations. We enable hotels to become recharging sanctuaries that attract high-value patrons. The company also provides charging infrastructure, enabling governments and energy companies to build eco-friendly "smart cities." Beyond automobiles, Noodoe's endeavors extend to motorcycles; through innovation, we partner with global brands to bring the electric riding experience to consumers worldwide. Noodoe provides products and services used in 110 countries.