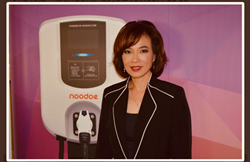 There's an urgency to our work, as we expect the total installed base of charging points to increase exponentially between now and 2024 in North America
IRVINE, Calif. (PRWEB) November 24, 2020
Noodoe, a global leader in EV charging technology, has recently signed Audi Taiwan, Morgner Power Group and EVCS to partnership agreements, facilitating growth of EV station installs across North America, including the U.S. and Canada. The sharing of technology and knowledge base has created record growth for Noodoe in 2020, while helping to electrify the burgeoning EV market across the entire continent.
"There's a reason great companies like Audi are partnering with Noodoe, and there's a reason we continue to seek new partners," says Noodoe CEO Jennifer Chang. "There's an urgency to our work, as we expect the total installed base of charging points to increase exponentially between now and 2024 in North America, from 700,000 to 2.4 million locations. To handle demand for EV charging hardware and software, we must work together to improve EV connectivity penetration rate, which currently stands at around 30 percent of what is needed for ubiquitous service."
Chang believes the feature attraction of Noodoe is their future-proof operating system, known in the industry as Noodoe EV OS. "Owners looking to get into EV charging are requiring operating efficiency," says Chang. "By automating the business operation, Noodoe EV OS enables the owner/operator to achieve the lowest possible operating cost. Controlling and running all EV charging stations, Noodoe EV OS fully automates everything – 24/7 charging service delivery, automatic peak-hour price adjustment, automatic transaction billing, automatic payment processing, automatic bank transfer, automatic infrastructure diagnostics, and intelligent energy management. It's so automated that the operator can sit back and monitor revenue being continuously generated."
Despite COVID-19 related supply chain disruptions, the International Energy Agency's (IEA) annual Global EV Outlook reports that the worldwide electric vehicle fleet continues to significantly expand in 2020.
"Everyone Noodoe partners with has something in common; the commitment to create a cleaner environment for all, protect the planet and inspire smart economic growth," says Chang. "With all the scientific evidence pointing to climate change, I'm more convinced than ever that consumers will make the shift to electric vehicles."
About Noodoe, Inc.
Noodoe is on a mission to make the world greener by accelerating the world's transition to electric transportation. In this quest, we produce well designed EV charging infrastructure solutions that help construction, retail, hospitality industries and public sectors be part of the global zero-emission revolution.
Through innovation Noodoe empowers businesses to turn their parking lots into profitable charging stations. We enable hotels to become recharging sanctuaries that attract high-value patrons. The company also provides charging infrastructure, enabling governments and energy companies to build eco-friendly "smart cities." Beyond automobiles, Noodoe's endeavors extend to motorcycles; though innovation we partner with global brands to bring the electric riding experience to consumers worldwide. Noodoe provides products and services used in 110 countries.