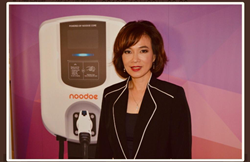 NoodoeEV is here in the US to supercharge EV charging station growth
WALNUT, Calif. (PRWEB) November 04, 2019
NoodoeEV, a global leader in EV charging technology, has partnered with two alternative energy companies, Palm Desert based renewable energy company Freevolt and Miami based LAC Supplier. The two companies are accelerating their entry into the EV charging market via the company's "Powered By Noodoe" partnership program, giving them the technology needed to be part of the fast growing electric charging industry.
"NoodoeEV is here in the US to supercharge EV charging station growth," says company CEO Jennifer Chang. "By partnering with alternative energy companies NoodoeEV is helping to quickly expand installations in the US, coast to coast. We've done all the heavy lifting, no need for companies to invest years and capital in hardware engineering, software development and cloud technology." In April, NoodoeEV signed a similar co-branded partnership agreement with Canada based Green Dot Group, which leverages sustainable energy technologies for its customer base.
FreeVolt is a European-based international solar panel manufacturer and installer with U.S. headquarters in Palm Desert, California. It is a one-stop shop that handles solar projects from start to finish. LAC Supplier is a technology company that applies advances in commercial systems to businesses worldwide.
Why NoodoeEV
What makes Noodoe different is Noodoe EV OS, an advanced cloud-based operating platform that fully automates (1) 24/7 service delivery, (2) universal payment processing, and (3) intelligent energy management. Our OpenADR 2.0b certification allows NoodoeEV's advanced OS to communicate online with utility companies, creating efficiencies that accelerate the world's transition to electric transportation.
Noodoe EV OS automates every possible aspect of charging service delivery – there is nothing the charging station owners need to do, except watch the automatic and continuous flow of revenue. Second, Noodoe EV OS automatically processes multiple payment types and relays the revenue directly from the customer right to the station owners' account – even receiving money is automatic. Finally, Noodoe EV OS automates cost-saving energy management and executes the optimal charging strategy to minimize recurring energy costs.
About NoodoeEV
NoodoeEV is on a mission to make the world greener by accelerating the world's transition to electric transportation. In this quest, we produce well-designed EV charging infrastructure solutions that help construction, retail, hospitality industries and public sectors be part of the global zero-emission revolution.
Through innovation NoodoeEV empowers businesses to turn their parking lots into profitable charging stations. We enable hotels to become recharging sanctuaries that attract high-value patrons. The company also provides charging infrastructure, enabling governments and energy companies to build eco-friendly "smart cities." Beyond automobiles, Noodoe's endeavors extend to motorcycles; through innovation we partner with global brands to bring the electric riding experience to consumers worldwide. Noodoe provides products and services used in 110 countries.