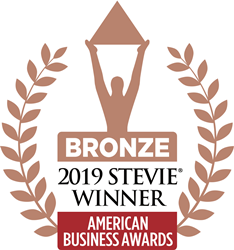 "Winning Stevie® Award third year in a row is a great accomplishment for the NopSec team," said Lisa Xu, CEO at NopSec.
NEW YORK (PRWEB) May 09, 2019
NopSec, a leader in vulnerability and cyber threat management, announced that it has been recognized for the Stevie® Award by the 2019 American Business Awards, the nation's premier business awards program. NopSec was named the winner of a Bronze Stevie® Award in the New Product category in The 17th Annual American Business Awards®.
The highly competitive American Business Awards program received more than 3,800 nominations from organizations of all sizes and in virtually every industry this year for consideration. More than 200 professionals worldwide participated in the judging process to select the winners.
As commented by one of the judges, "Management and Remediation is always a mammoth task due to diverse players and sometimes conflicting interests. But, no one argues with a security breach. Great vision and a great product."
"NopSec's machine learning models leverage vulnerability data, asset data, threat intelligence, social media and other sources to prioritize issues. This process separates truly critical vulnerabilities from the noise. Good nomination. Important space," cited by another judge for the Stevie Award.
"We are honored for the recognition that we have received from the Stevie Award judges," said Lisa Xu, CEO at NopSec. "This recognition validates our commitment to provide best-in-class cybersecurity solutions for the industry and customers. We're proud to enable organizations to effectively manage vulnerability risks and remediate with confidence. Winning Stevie Award third year in a row is a great accomplishment for the NopSec team."
Details about The American Business Awards and the list of 2019 Stevie winners are available at http://www.StevieAwards.com/ABA.
About NopSec
NopSec provides ML-based threat prediction and cyber risk remediation solutions to make data digestible, actionable and reduce time to remediation. The company is based in New York City. The company's flagship SaaS product, Unified VRM, utilizes passive analysis, active exploitation and contextual enrichment that enables security teams to visually forecast threat risk, and dramatically reduce the time to remediation of critical security vulnerabilities across infrastructure and applications. For more information, visit https://www.nopsec.com or follow us on Twitter @nopsec.