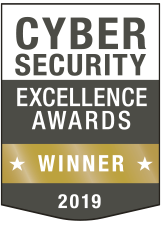 "It is an honor to be named a winner by Cybersecurity Excellence Awards for the Best Cybersecurity Company category," Lisa Xu, CEO of NopSec
NEW YORK (PRWEB) February 25, 2019
NopSec, a leader in vulnerability and cyber threat management, has been named the Gold winner for Best Cybersecurity Company in the 2019 Cybersecurity Excellence Awards.
The Cybersecurity Excellence Awards is an independent awards program that honors companies and individuals that demonstrate excellence, innovation, and leadership in information security. Each year, it is produced in cooperation with the Information Security Community, tapping into the experience of 400,000+ cybersecurity professionals to recognize the world's best cybersecurity products, individuals, and organizations.
NopSec's flagship product, Unified VRM, is used by government entities and private organizations to prioritize and remediate vulnerabilities, reduce risks, and validate cyber security controls. Unified VRM is a cloud-based SaaS platform powered by the world's most advanced attack simulation capabilities and machine learning analytics. The platform provides IT Security and Risk teams global visibility of their infrastructure risk levels, enabling them to prioritize and remediate their most imminent cyber threats.
"It's an honor to be named a winner by Cybersecurity Excellence Awards for the Best Cybersecurity Company" said Lisa Xu, CEO of NopSec. "Solving the vulnerability prioritization problem for customers is our number one priority. Delivering machine learning driven threat prioritization and advanced remediation automation as well as control validations drives our product vision and innovation roadmap. We are humbled that NopSec is recognized for its continued commitment and investment in technology innovation and customer success. Thanks to the Cybersecurity Excellence Awards for recognizing NopSec as a leader in the Best Cybersecurity Company, Most Innovative Company, and Best Cybersecurity Startup."
About NopSec
NopSec provides ML-based threat prediction and cyber risk remediation solutions to make cyber data humanly digestible and cut down time to remediation. Forrester named NopSec "Leader" in Vulnerability Risk Management in 2018. The company is based in New York City.
http://www.nopsec.com