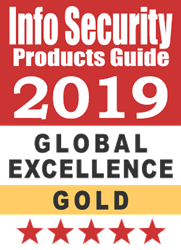 "Winning 3 years in a row is quite an accomplishment for the team. This recognition further validates our commitment to our customers, and investments in innovation that enables intelligent automation in vulnerability prioritization and remediation for enterprises." - Lisa Xu, NopSec CEO
NEW YORK (PRWEB) February 06, 2019
NopSec announced today that Info Security Products Guide, the industry's leading information security research and advisory guide, has named Unified VRM, the Gold winner for Vulnerability Assessment, Remediation and Management and the Bronze winner for Technologies and Products suitable for U.S.A. in the 15th Annual 2019 Info Security PG's Global Excellence Awards®. These prestigious global awards recognize cybersecurity and information technology vendors with advanced, ground-breaking products, solutions, and services that are helping set the bar higher for others in all areas of security and technologies.
NopSec's flagship product, Unified VRM, is selected by many government entities and private organizations to manage and prioritize vulnerabilities, reduce risks, and provide end-to-end remediation workflow orchestration. Unified VRM is a cloud-based SaaS platform powered by the world's most advanced attack simulation and data analytics technology, patented AI E3 Engine. The platform provides IT Security and Risk teams unified visibility of their infrastructure and application risks, enabling them to prioritize and remediate their most imminent cyber threats.
"We are proud that NopSec's Unified VRM has been named the Gold winner by Info Security Products Guide," says Lisa Xu, the CEO "Winning three years in a row is quite an accomplishment for the team, and it's all driven by our relentless focus on customer success. This recognition further validates our commitment to our customers, and investments in innovation that enables intelligent automation in vulnerability prioritization and remediation for enterprises.."
About Info Security PG's Global Excellence Awards
Info Security Products Guide sponsors the Global Excellence Awards and plays a vital role in keeping end-users informed of the choices they can make when it comes to protecting their digital resources and assets. It is written expressly for those who are adamant on staying informed of security threats and the preventive measure they can take. You will discover a wealth of information in this guide including tomorrow's technology today, best deployment scenarios, people and technologies shaping cyber security and industry predictions & directions that facilitate in making the most pertinent security decisions. Visit http://www.infosecurityproductsguide.com for the complete list of winners.
About NopSec
NopSec provides ML-based threat prediction and cyber risk remediation solutions to make cyber data humanly digestible and reduce time to remediation. Forrester named Nopsec "Leader" in Vulnerability Risk Management in 2018. The company is based in New York City. http://www.nopsec.com