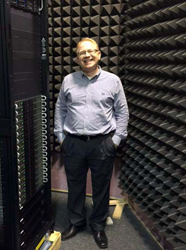 This is a great opportunity for us to showcase our hardware and integration expertise and also brainstorm with some of the keenest minds in the scientific and technology communities
MINNEAPOLIS (PRWEB) May 10, 2017
Nor-Tech just announced that it will be showcasing an innovative cluster simulation site at Dassault's Science in the Age of Experience event May 15-18 at Chicago's McCormick Place. The event is designed to show attendees in the scientific and analytics communities how to fully leverage the shift toward digital simulation and modeling.
Dassault will present an expanded simulation program that includes:

End-to-end industry workflows on Dassault's 3DEXPERIENCE platform.
New capabilities and enhancements to Abaqus, Isight, Simpack, Tosca and fe-safe.
Keynote speakers that are leading industry experts.
Insight into simulation trends.
Technical content, including 70 papers from multiple industries.
A comprehensive training day.
A technology forum and in-depth discussions.
Nor-Tech and Dassault are long-term partners that have worked together on a number of projects including a groundbreaking digitally accessible simulation cluster at simulationclusters.com.
The site, a collaboration between Intel, Dassault and Nor-Tech, is a no-cost way for users to test drive the latest Intel processors and newest Abaqus platform while quantifying the ROI of upgrading from a workstation to an HPC cluster.
Simulationclusters.com runs Abaqus FEA, a SIMULIA product developed by Dassault. It is a scalable suite of unified analysis products that allows all users to collaborate and share simulation data and approved methods without the loss of information fidelity.
Nor-Tech has been at the forefront of simulation innovation, delivering HPC solutions integrated with leading-edge simulation software for more than a decade
Nor-Tech President and CEO David Bollig said, "We are very enthusiastic about this event. It is another opportunity for us to showcase our hardware and integration expertise and also brainstorm with some of the keenest minds in the scientific and technology communities."
Nor-Tech is on CRN's list of the top 40 Data Center Infrastructure Providers—joining ranks with IBM, Dell, Hewlett Packard Enterprise, and Lenovo. The company is renowned throughout the scientific, academic, and business communities for easy to deploy turnkey clusters and expert, no wait time support. All of Nor-Tech's technology is made by Nor-Tech in Minnesota and supported by Nor-Tech around the world. In addition to HPC clusters, Nor-Tech's custom technology includes workstations, desktops, and servers for a range of applications including CAE, CFD, and FEA. Nor-Tech engineers average 20+ years of experience and are responsible for significant high performance computing innovations. The company has been in business since 1998 and is headquartered in Burnsville, Minn. just outside of Minneapolis. To contact Nor-Tech call 952-808-1000/toll free: 877-808-1010 or visit http://www.nor-tech.com. Full release at: http://www.nor-tech.com/category/news/. release at: http://www.nor-tech.com/category/news/. Media Contact: Jeanna Van Rensselar, Smart PR Communications; jeanna(at)smartprcommunications.com.