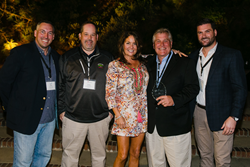 LA JOLLA, Calif. (PRWEB) November 08, 2019
NOREL Service Company / NSG Life Safety was once again awarded for achieving the most sales of all distributors of Johnson Controls Inc.'s (JCI) Autocall product line. NOREL / NSG Life Safety was recognized as a "Top Gun" for the second year in a row, and ranked as the number one distributor of all Autocall distributors in North America.
JCI's Autocall fire detection suite of products, built on legacy systems, is in its second year of successful distribution. As a premier fire detection systems and solutions provider, NOREL / NSG Life Safety has designed and installed the state-of-the-art, future-ready, Autocall systems in educational, healthcare, government and commercial institutions in and around New England.
As a division of NOREL, NSG Life Safety's President, Dan Chauvin, attributes the company's success to meeting and exceeding their core mission of using their collective industry expertise to provide clients with the most innovative and practical solutions to their Life Safety, Integrated Security and Critical Communications needs.
About NOREL / NSG Life Safety:
Since 1971, NOREL Service Company, Inc. has provided sales, service, installation, testing, and monitoring of top-of-the-line fire and security systems. Together with its superior service and proven reputation in the industry, the company's consistent year-over-year growth can be attributed to the leadership team, including Tom Norton (Founder & President) and George Aguiar (Vice President).
NOREL's NSG Life Safety division is entering its third year of operation and is led by Dan Chauvin, a 30-year industry leader having grown a previous life-safety company to 38 million in revenue. With Mr. Chauvin at the helm, the NSG Life Safety team looks forward to continued growth providing life-safety products, systems design, installation and the most optimal solutions available in the industry. Dan is a Certified Engineering Technologist (NICET IV), and holds both a RI Master Fire Alarm License and a Telecom Contractors license (TSC).
NOREL is a federally-certified Veteran-Owned Small Business (VOSB), a Boston Business Journal top 25 Largest Veteran-Owned Business in Massachusetts (2016-2018), and a Massachusetts Veteran Business Enterprise (VBE).
For more information, visit http://www.norelservice.com
For information on Autocall products, visit http://www.autocall.com
###