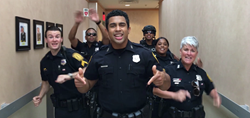 "The officers and staff of the Norfolk Police Department are an amazing example of how music, creativity, team work, caring, humor, and risk taking can be powerful tools for engagement." - Elliott Masie, Host of Learning 2018 and Broadway Producer
SARATOGA SPRINGS, N.Y. (PRWEB) September 10, 2018
Elliott Masie has announced that The Norfolk Police Department is coming to Learning 2018 this November to receive a Special "Engagement Award" for their viral Lip Sync performance of Bruno Mars' "Uptown Funk", which has over 50,000,000 views. They will be honored with the award by learning leaders from some of the nation's major corporations, including McDonald's, Google, American Airlines, and hundreds more.
"The officers and staff of the Norfolk Police Department are an amazing example of how music, creativity, team work, caring, humor, and risk taking can be powerful tools for engagement. As they lip sync the words to "Uptown Funk", you can see and feel the engagement of the wide diversity of the workforce – as well as feel the pride the community of Norfolk must have for its police force," said Elliott Masie, Host of Learning 2018 and Broadway Producer (The Prom, Kinky Boots, and The Cher Show).
According to Norfolk spokesperson Corporal William Pickering, "We wanted to show the community our primary objective is to protect and serve the community, but we're not robots. We share a lot of the same interests the community has."
More Details at https://www.learning2018.com/norfolk
Learning 2018 will be held in Orlando, Florida from November 4th to 7th at Walt Disney World, and is produced by MASIE Productions and CloserStill Media. Advanced Registration Discounts, Group Discounts, and Retreats now available. Registration is available online at https://www.learning2018.com.
Learning 2018 is programmed by The Learning CONSORTIUM, a collaborative of 200 global corporations, focused on improving workplace learning and training. Hosted and curated by Elliott Masie, Learning 2018 brings together several thousand learning professionals as they focus on the changing nature of workplace education and development. Learning 2018 keynote speakers include: Former First Lady Laura Bush; Leslie Odom, Jr., star of "Hamilton" and author of "Failing Up"; author Dan Pink; VR specialist Vicki Lau; Elliott Masie and more.
Content and online registration at https://www.learning2018.com.