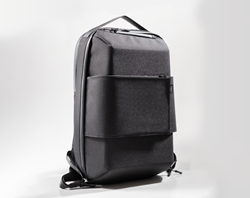 "Whether you're a student, work in an office or travel often for a weekend getaway, we wanted to create a diverse bag that fuses fun with functionality."
ALHAMBRA, Calif. (PRWEB) March 08, 2021
Nori Backpack is a multi-use everyday bag that redefines the traditional carrier for modern, minimalist lifestyles, launching on Kickstarter today.
The Nori Backpack is compact yet extremely functional. The sushi-inspired butterfly wings can be buckled in the front or back to hide zipper ends for extra security. The wings can also be buckled backward to wrap around luggage handles, allowing people to commute, travel or venture anywhere with all of their essentials safely secured.
The water-resistant backpack is spacious enough to carry everyday essentials, secure enough for any adventure, and sleek enough for any occasion. It features TSA-approved hidden pockets on the wings, the shoulder straps, and the back. One hidden pocket on the shoulder strap is made with RFID-safe fabric that protects against tech-savvy thieves. Both shoulder straps feature anti-theft buckles to strap the bag to a workspace, seat or table. The semi-hard shell will always hold its shape and its lightweight design can rest comfortably on the back without protruding. The Nori Backpack is GRS (Global Recycled Standard) certified too.
The travel industry is encouraging fliers to travel with less and psychologists say there's a correlation between increased stress levels and luggage design. Nori Backpack is a compact, functional and secure way to make traveling less stressful. People who lead busy lives are looking for more than an average backpack and the global backpack market is expected to reach $22 billion by 2026.
"Whether you're a student, work in an office or travel often for a weekend getaway, we wanted to create a diverse bag that fuses fun with functionality," said Danny Du, designer of Nori Backpack. "Nori Backpack is your everyday companion that promises to keep you moving without weighing you down."
Life is full of adventures that require laptops, water bottles, notebooks, snacks, chargers and additional outfits. Nori Backpack is the perfect pack to carry your day. To pre-order the Nori Backpack, visit pr.go2.fund/nori.
About Nori Design
At Nori Design, we love every passion and interest on Earth because it's a reference to your individuality. Our core vision is to help you express yourself, no matter where you are, who you are, and what you are passionate about. We want to be able to provide you with custom products that help you express who you really are! For more information, visit noridesign.co.