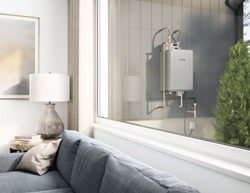 The Noritz EZ and NRC condensing tankless water heater series are ENERGY STAR®-certified and both eligible for a $1,000 rebate from SoCalGas natural gas water heater rebate program, which runs through December 31, 2020
FOUNTAIN CITY, Calif. (PRWEB) August 26, 2020
Tankless water heater manufacturer Noritz America has announced that its two most efficient residential series — the EZ and the NRCR — qualify for the maximum, $1,000 rebate in the ongoing SoCalGas natural gas water heater rebate program, which runs through December 31.
To receive this maximum rebate, a water heater must be: (1) ENERGY STAR®-certified with a Uniform Energy Factor (UEF) of at least 0.95; and (2) installed as replacement for a conventional storage tank-type unit. There is a limit of one replacement per household.
The four eligible Noritz water heaters are all ultra-high-efficiency, ENERGY STAR®-certified, condensing tankless models:
— The EZ Series (EZ98 and EZ111), with a 0.96 UEF and an industry-leading 25-year warranty on the corrosion-resistant dual stainless-steel heat exchanger. Designed specifically as affordable replacements for larger, storage tank-type units, the two EZ models feature WiFi capability, plus three labor-saving features engineered to streamline installation and cut costs:
-top-mount, hot- and cold-water connections that sharply reduce the amount of costly plumbing work required by most tankless-for-tank replacements;
-maximum venting flexibility, including a 2-inch flex vent that reuses the existing B-Vent of the tank water heater being replaced;
-the possibility of also reusing the tank unit's half-inch gas line, thus avoiding the substantial expense of running a new gas line.
— The recently introduced NRCR Series (NRCR92 and NRCR1111), with a 0.97 UEF and a 15-year warranty on its dual stainless-steel heat exchanger. The WiFi-capable NRCR Series delivers a premium solution to meet the growing homeowner demand for hot-water recirculation. Its built-in recirculation pump keeps hot water close to even the farthest outlet in the home, minimizing the wait and, therefore, the costly waste of unused potable water down the drain. The NRCR quickly learns household water usage and automatically delivers water at the correct water temperature whenever and wherever it is needed the most.
The SoCalGas rebate application can be accessed at: socalgas.com/rebateapp
For more information on the EZ Series and NRCR Series, visit: https://www.noritz.com/
NORITZ AMERICA CORPORATION, a subsidiary of Noritz Japan, has corporate offices in Fountain Valley, Calif., and Atlanta, offering a full line of tankless water heaters and high efficiency combination boilers to meet the hot water demands of residential and commercial applications. Noritz supports its products with a national network of skilled representatives and employees who are committed to providing the finest products and services to our communities by helping consumers live in a more comfortable, efficient and healthy lifestyle. For more information on Noritz America and the entire line of Noritz's ENERGY STAR® tankless water heaters, please call (877) 986-6748 or visit our website at http://www.noritz.com.