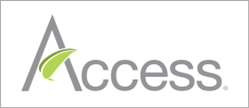 50 percent of our operative cases are delayed because of misplaced or unsigned paperwork, so there's a big opportunity for improvement with the Access system. We'll capture all the required informed consent signatures at the first attempt.
SULPHUR SPRINGS, Texas (PRWEB) December 11, 2018
Access today announced that one of the customers it has served the longest, Norman Regional Health System in Oklahoma, has selected its web-based platform Access Passport. The hospital has been using Access's products for more than a decade to reduce paper use, speed processes, and get patient data into its MEDITECH EHR.
Access Passport will enable Norman Regional to advance its paperless journey even further, by making eForms available via Apple iPads that patients and clinicians can use to apply secure electronic signatures. This will be particularly useful for capturing patient and physician signatures on informed and procedural consents.
"With Access Passport, patients won't need to worry about completing all their forms at the point of admission because they'll be able to fill in consents and other documents at the bedside," said Beth Summers, HIT Database Analyst at Norman Regional. "50 percent of our operative cases are delayed because of misplaced or unsigned paperwork, so there's a big opportunity for improvement with the Access system. We'll capture all the required informed consent signatures at the first attempt from both the physician who's explaining the upcoming procedure and the patient who's going to undergo the surgery, which will eliminate paperwork-related delays such as form misplacement or missing signatures. The audit trail will also be so much clearer."
Upon completion, consents and other forms will be routed directly into the correct patient's electronic chart, without the need for scanning or manual indexing. The tight integration between Access and MEDITECH will be so seamless that users won't have to leave the main system that they work in daily, and will likely not even know they're using a third-party application. Another area of the hospital that will benefit from this streamlined process is registration.
"The decision to go with Access Passport has given us the chance to re-examine our processes and forms in registration and clinical areas," Summers said. "We've realized that we can consolidate certain multi-page documents that require each patient to sign and initial multiple areas of the form, such as the admission disclosures and agreement, into fewer pages with minimal signatures. This will not only speed the registration process, but also make things easier on our patients."
In addition to utilizing Access Passport in clinical departments and patient registration, Norman Regional also plans to deploy it in back office areas such as human resources, (HR) accounts payable (AP), and the cross-department forms committee.
"In the back office, Access Passport will allow us to replace paper-based workflows with fully electronic and paper-free processes – it's going to become a one-stop hub for all our eForms," Summers said. "It will also enable our staff to get documentation into our enterprise content management system easily and efficiently. In addition to improving our internal workflows, we'll also expedite the process when physician's offices or outside vendor request access to our system, as we'll be able to obtain multiple approvals much more quickly. The same will be true of our forms committee's review stage, which we're going to automate with Passport."
In more than a decade of working together, Access and Norman Regional have formed a productive partnership that has stood the test of time.
"Everyone at Access is a pleasure to work with – from our account manager who's always willing to come and show the latest products to different departments so we can get buy in to the implementation team to support," Summers said. "Access makes us feel less like a customer and more like family, and that's why I continue to recommend them."
About Access
For more than 15 years, Access has developed electronic forms management solutions that eliminate the unnecessary expense, risk and inefficiency of paper forms. Our 100 percent paperless technology enables organizations in any industry to capture, manage, sign and share forms data without printing or scanning. Learn more at http://www.accessefm.com
About MEDITECH
The next digital transformation of healthcare is underway, and MEDITECH is leading the charge with Expanse, the only full-scale EHR designed specifically for the post-Meaningful Use era. As a leading EHR vendor for over 45 years, MEDITECH's solutions have empowered 2,350+ customers across 22 different countries to provide higher quality care, with greater efficiency, to more people, at a lower cost. Today, our cutting-edge solutions are helping organizations to see healthcare through a new lens and navigate this virtual landscape with unparalleled vision and clarity. Whether your destination is clinical efficiency, analytical prowess, or financial success, MEDITECH's bold innovation, passion, and expertise will get you where you want to go. Visit ehr.meditech.com, our Newsroom and Blog, and connect with us on Twitter, Facebook and LinkedIn to start your journey today.