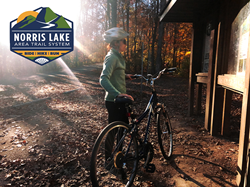 The bigger picture of the Norris Area Trail System is not only to get more people to enjoy our parks but to discover our area and draw more attention to it.
KNOXVILLE, Tenn. (PRWEB) November 21, 2020
The Norris Project Steering Committee is launching a plan to improve connectivity between four park systems to create a more extensive multi-use recreational trail system. The NATS steering committee consists of local officials and the respective property managers for Loyston Point, Big Ridge State Park, Norris Watershed Trails, and Norris Dam State Park. The recently completed Norris Area Trail Sustainability (NATS) and Connectivity Feasibility Plan propose building a system of non-motorized multi-use trails to attract more year-round visitors by expanding recreational options.
In an area that's long suffered from tepid economic vitality, enhancing visitors' experiences could catalyze raising the region's recreation profile and, in turn, boost local businesses and increase demand for workers. This improvement will sustain local tourism during the winter months by leveraging existing NATS recreational assets to balance the large number of tourists who visit Norris Lake in the summer.
Chuck Morris, a local biking enthusiast who often volunteers to help build and maintain area trails, is excited about the NATS plan. He believes that if improved and energetically promoted, NATS could compete as planned with the booming summertime water activity.
"It's hard to get somebody to come here for a single trail system, but if you can market it as multiple trail systems that are interconnected, then when you have people come stay on a houseboat for a week, they will want to bring their bikes out to ride, too. Then you will have more people coming in the summer and riding, but also coming back in the winter and bringing business to your hotels, your cabins, your marinas, and restaurants."
"The bigger picture of the Norris Area Trail System is not only to get more people to enjoy our parks but to discover our area and draw more attention to it," said Norris Lake State Park manager Veronica Grear. "All of us want to bring more people to our parks -- and have them spend their money locally. The whole vision of the NATS plan is to promote parks and connect more people to the parks so that we can have future generations of park supporters and advocates who're going to protect the land and enjoy it after we're not here anymore."
"What is unique about this system of trails is that each land manager will retain autonomy for their property, but is committed to collaborating to boost the tourism opportunities for these rural counties that border Norris Lake," says Julie Graham, spokesperson for ExploreTRV. "The TVA came to this Valley in 1930 to create not only the dam but to build places for people to enjoy outdoor recreation. The TVA's investment in funding the feasibility plan helped us create this vision. We appreciate the support from the Anderson, Campbell, and Union County mayors and commissions in supporting the realization of the vision."
The Tennessee River Valley Stewardship Council serves as the steering committee and editorial board for the Geotourism Map Guide website. It is composed of volunteers from a seven-state region. The Council's efforts are made possible through the generous support of the Tennessee Valley Authority (TVA). For more information about the Map Guide, visit ExploreTRV.