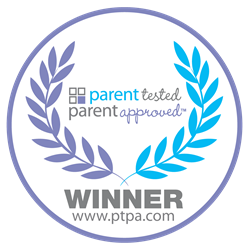 The 2020 holiday shopping season will be like no other
NEW YORK (PRWEB) November 17, 2020
With the holidays just around the corner, the leader in consumer family product awards, Parent Tested Parent Approved (PTPA), announced the holiday recipients of their coveted Seal of Approval today. After family testers from PTPA's community of more than 200,000 parents reviewed products in time for holiday shopping, the results are in.
"The 2020 holiday shopping season will be like no other," said Sharon Vinderine, Founder and CEO of PTPA Media. "With families switching to online shopping and choosing to spend less than they did in previous years, the PTPA Seal of Approval provides them with the confidence they need to choose quality products that are worth purchasing this holiday season."
"From Duracell's new Lithium Coin Batteries to the My Audio stories illustrated picture books, to the Canadian-made Endy Mattress, the list of award-winning Parent Tested Parent Approved products is sure to bring joy despite the world looking a bit different this year," shared Vinderine.
Full list of PTPA Holiday 2020 winners:
Company: Duracell
Winning product: Lithium Coin Batteries
Company: Endy
Winning product: The Endy Mattress
Company: Dorel Juvenile
Winning products: Maxi-Cosi Coral XP
Company: Dorel Juvenile
Winning product: Safety 1st Stay Clean Humidifier
Company: Artsana USA, Inc.
Winning product: PhysioForma Mini Silicone Orthodontic Pacifier
Company: KIM+ONO
Winning products:
Washable Silk Kimono Robe
Charmeuse Kimono Robe
Company: Universal Stone
Winning product: Universal Stone
Company: Entertainment One
Winning Product: Ricky Zoom
Company: My Audio Life
Winning product: My Audio Stories
Company: Masdel Inc.
Winning products:
Magic Bag Neck-to-Back Compress
Magic Bag Pad Hot/Cold Compress
Magic Bag Extended Hot/Cold Compress
Company: Launched LA
Winning products:
Hello Bello Prenatal + DHA Gummy Vitamins
Hello Bello Concentrated Laundry Detergent
Hello Bello Flushable Wipes
Hello Bello Bubble Bath
Hello Bello Baby Wipes
Hello Bello Conditioning Mist + Detangler
Hello Bello Baby Lotion
Hello Bello Conditioner
Hello Bello Baby Shampoo
Hello Bello Women's Multivitamin
Hello Bello Men's Multivitamin
Hello Bello Kids Multivitamin
How Winners Are Determined
Parents across North America participate in the testing process at no cost to them. They evaluate the products with their families in real-life environments rather than only conducting a consumer vote. Their feedback and evaluations are carefully tallied and curated. Products that meet their standards earn the coveted PTPA Seal of Approval, which can be leveraged on packaging, advertising, end-cap displays, and more. The Parent Tested Parent Approved Seal of Approval ranks among the top most recognized seals in North America.
About PTPA Media Inc.
For over 13 years, PTPA Media has been certifying innovative products that families can trust. PTPA has grown to be a leader in the awards industry and its prestigious seal of approval is used by thousands of brands around the world. By leveraging families from our continuously growing community, PTPA is able to ensure that the products that earn their seal of approval have been tested and approved by real families with trustworthy reviews. In a marketplace where families struggle to know what reviews to trust, PTPA breaks through the clutter and ensures authenticity.
For more information, visit http://www.ptpaawards.com