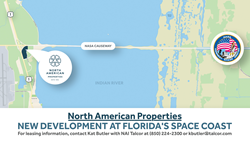 "We intend to have the first phase of this project designed, permitted and ready to lease within the next 12 months." –Shawn McIntyre, NAP Florida Managing Partner.
TITUSVILLE, Fla. (PRWEB) July 22, 2020
National real estate developer North American Properties (NAP) has acquired 21 acres of land within Titusville's Riverfront Center development at the southeast corner of U.S. 1 and NASA Causeway. The parcel is located at the entrance to Kennedy Space Center, between aerospace giants Boeing and Lockheed Martin. Preliminary phase one plans call for multiple buildings totaling 135,000 square feet of traditional office, office warehouse and manufacturing space, plus commercial outparcels to serve the growing area market. This move marks the Cincinnati-based company's first project on Florida's Space Coast, with more to come.
"We see tremendous growth potential in this region, and we're accelerating our plans to meet the demand for industrial space by the vendors and suppliers that serve the defense and revitalized space industries," said Shawn McIntyre, NAP Florida Managing Partner. "We intend to have the first phase of this project designed, permitted and ready to lease within the next 12 months."
Since 1954, NAP has developed more than $7 billion in investments, including 22 million square feet of commercial space and 19,000 residential units in 15 states. In Florida, the company's portfolio includes multiple student housing facilities, two multi-use projects, many big box centers and dozens of Publix shopping centers. McIntyre is currently wrapping up the Cascades Project in Tallahassee, a $150 million mixed-use development spanning two city blocks and featuring mid-rise residential, retail, office and restaurant space, and a 154-room AC Hotel by Marriott. By taking the proper precautions amid the coronavirus pandemic, the project remains on schedule to open at the end of this year.
"Our company has experienced more than 65 years of success in real estate development in part because of the time we invest in researching communities and monitoring trends," said McIntyre. "It's no secret that Florida's Space Coast is growing at an incredible speed and being fueled by companies such as SpaceX, Blue Origin and United Launch Alliance (ULA). We have other properties in the area under contract, and we believe this Riverfront Center investment is only the beginning."
NAP's Space Coast partners include DAG Architects, ATKINS, Collins Brown Barkett Chartered, NAI Talcor and The Taproot Agency. For sales and leasing information, contact Kat Butler at 850-224-2300 or kbutler@talcor.com.
About North American Properties
Founded in 1954, North American Properties is a privately held, multi-regional real estate operating and development company that has acquired, developed and managed more than $7 billion of mixed-use, retail, multifamily and office properties across the United States. Headquartered in Cincinnati, with offices in Atlanta, Dallas, Tallahassee and Fort Myers, Florida, the company has developed 22 million square feet of commercial space and 19,000 residential units in 15 states and 67 cities. In the past three years, North American Properties has launched 36 projects totaling $2.2 billion in total capitalization. In metro Atlanta, North American Properties led the turnaround of Atlantic Station and the ground up development of Avalon. Currently, the company's mixed-use pipeline includes: Cascades in Tallahassee, Colony Square in Midtown Atlanta and Newport on the Levee in Newport, Kentucky. Learn more at naproperties.com.
About DAG Architects
DAG Architects is an award-winning design firm with over 50 designers and architects in five offices across the Florida panhandle. The firm's practice extends throughout the Southeast and includes a diverse portfolio of mixed-use multi family residential, hospitality and resort design, commercial business, public safety, and educational facilities. DAG is also the proud recipient of the 2020 AIA Florida/Caribbean Firm of the Year Award. Learn more at dagarchitects.com.
NAP's Space Coast project lead, Jehna Winger, AIA, is an Associate Principal at DAG Architects, and has been with the firm for five years. She serves as the design team Executive Project Manager in charge of the NAP Mixed Use Development at Cascades in Tallahassee, Fla. Jehna's ability to understand the client's needs, deliver responsive service and solutions, and lead complex teams, makes her key to delivering successful projects.
About ATKINS
Atkins, a member of the SNC-Lavalin Group, is one of the world's most respected design, engineering and project management consultancies, employing over 18,300 people across the UK, North America, Middle East and Africa, Asia Pacific and Europe. We have called Florida's Space Coast home since 1976 and have 14 offices throughout the Sunshine State. We build long-term trusted partnerships to create a world where lives are enriched through the implementation of our ideas. For more information, visit http://www.atkinsglobal.com or view recent projects at http://www.atkinsglobal.com/en-GB/projects.
NAP's Space Coast project lead, Mel Scott, AICP, has been practicing as an urban planner for 28 years in Florida and has managed all aspects of both environmental permitting and community development in the public and private sectors, including being the Assistant County Manager in Brevard County. Mel has been with ATKINS since 2015 and leads business development and strategy efforts in Central and North Florida.
About Collins Brown Barkett Chartered
Collins Brown Barkett Chartered is a full-service law firm with offices in Vero Beach, Florida. Collins Brown Barkett offers comprehensive legal services including matters involving litigation and dispute resolution; real estate; land development and zoning; estate planning, probate, and tax; and marital and family law. To learn more visit verolaw.com.
NAP's Space Coast project lead, Bruce Barkett is an A-V rated lawyer who began practicing in 1979 in Tallahassee as an Assistant Attorney General handling civil rights and environmental litigation. He also served as Assistant General Counsel for the Florida Department of Natural Resources. He has been with Collins Brown Barkett since 1987. His practice focus is in real estate transactional work; land-use, planning, and zoning approvals; and general civil matters.
About NAI Talcor
NAI TALCOR was founded in 1990 as a real estate brokerage firm specializing exclusively in commercial properties in North Florida, South Georgia and South Alabama. The brokerage company employs the most experienced and competent professionals in the real estate business and offers individual specialists in retail, office, agricultural, multi-family, industrial and investment property sectors. To learn more visit talcor.com.
NAP's Space Coast project lead, Kat Butler, is a commercial advisor with NAI Talcor. She began her career in commercial real estate in 2012 and holds expertise in investment acquisitions/dispositions and office leasing. She is joined by team members Jimmy Nystrom, SIOR and John McNeil, SIOR who have over 45 years of experience in commercial real estate specializing in office investment and leasing.
About The Taproot Agency
The Taproot Agency is an integrated marketing and behavior-change firm offering research-based, results-driven business and communications strategies that move people to action. The agency serves organizations throughout the country representing a broad range of industries, including commercial real estate, hospitality, education, transportation, retail, law and finance, among others. Since its inception in 2005, Taproot has received hundreds of awards for contributions to the design, web, advertising and public relations fields. The company's work has also received recognition in The Wall Street Journal, Politico and Florida Trend, among other major media outlets. To learn more, visit taproot.agency.
NAP's Space Coast project lead, Stacey Getz, APR, serves as partner and chief strategy officer at The Taproot Agency and holds nearly two decades of experience spearheading award-winning marketing and public relations campaigns for regional, national and international clients. Getz also oversees community and media relations for NAP's Cascades Project in Tallahassee, Fla.