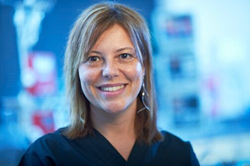 The collaboration with the University of Minnesota is an important step in bringing veterinary and human medicine together so we can truly be ONE medicine that impacts more lives, Dr. Pelosi said
JUPITER, Fla. (PRWEB) July 31, 2018
It already is home to outposts of Scripps Research Institute and the venerable Max Planck Institute for Neuroscience. But the town of Jupiter has come one step closer to becoming a hub of innovation for veterinary medicine.
Dr. Augusta Pelosi, medical director at North American Veterinary Heart Center, has become an adjunct associate professor at the University of Minnesota, a glamorous institution for cardiac surgery featuring the birthplace of open-heart surgery. In fact, Dr. CW Lillehei, a cardiac surgeon at the University of Minnesota participated in the world's first successful open-heart surgery in 1952. "The University of Minnesota's department of surgery is a school of tradition and innovation," Dr. Pelosi said. "It is a great honor for me to become part of the team as an adjunct associate professor."
In the most recent years, the University of Minnesota and the Twin Cities have been the world mecca for cardiovascular devices development, also thanks to the work of Professor Richard Bianco. "Prof Bianco is nationally and internationally renowned expert in biomedical research, " said Pelosi.
"It is an honor and a pleasure to welcome Dr. Augusta Pelosi to the University of Minnesota and The Experimental Surgery Program. Dr. Pelosi brings unique and valuable clinical and surgical skills. She will be a key component as we accelerate the translation of cardiac therapy and technology to the veterinary clinical arena." said Richard Bianco.
"The collaboration with the University of Minnesota is an important step in bringing veterinary and human medicine together so we can truly be ONE medicine that impacts more lives," Dr. Pelosi said.
"It's a natural fit for Dr. Pelosi, and it enhances the cutting-edge work done by our medical professionals at NAVHC. Dr. Pelosi and her team already are successfully performing heart procedures on pets at NAVHC," said Giovanni Di Stadio, CEO, and co-founder of NAVHC. "It's awe-inspiring to be part of a team that finds new ways to improve the lives of pets from around the world."
North American Veterinary Heart Center is at 1680 S. Central Blvd., Suite 112, Jupiter. For more information, visit http://www.navetheart.com or call 561-250-6580.
About North American Veterinary Heart Center:
North American Veterinary Heart Center is the world's most advanced veterinary cardiology and heart surgery center offering an advanced portfolio of cardiology, heart surgery, and dental procedures for "high-risk" patients such senior pets or pets with underlying medical conditions. The center's medical director is Dr. Augusta Pelosi the world's only double board-certified veterinary cardiologist and heart surgeon. Located in Florida's biomedical hub of Jupiter, NAVHC provides easy access to international airports and welcomes pets and their families from around the world.
For media inquiries, telephone Jack E. Lighton at 561-386-8606.
Social Media: