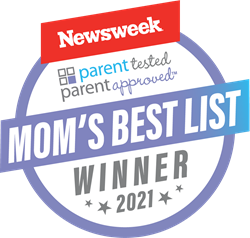 We're delighted to partner with PTPA in offering 'parent-tested' recommendations for everything from cribs and diapers to air purifiers
NEW YORK (PRWEB) November 03, 2021
Looking to get your holiday shopping started early? Before you start crossing gifts off those lists, check out the latest edition of Newsweek Magazine, which now includes Mom's Best List– a curated catalogue of 300 favorites determined by members of Parent Tested Parent Approved (PTPA) - a community comprising more than 200,000 members offering discerning, practical and trusted family-oriented product reviews. The partnership will include editorial features of the winners in Newsweek's digital publication, Newsweek.com.
"We couldn't think of a better way to celebrate our 15th anniversary than to partner with Newsweek and introduce an entirely new audience of families to our seal of approval," says Sharon Vinderine, founder and CEO, PTPA Media. "Knowing what to buy and who to trust for your families' needs can be daunting, but with this list of top products at your fingertips, shopping with confidence has never been easier."
To curate the Mom's Best List, PTPA challenged its community of more than 200,000 parent members to create a shortlist of the top products they've recently purchased, used and loved. From there, PTPA team members further refined the list through analysis of nomination volume, scoring review and overall product experience across a wide range of infant-focused categories such as baby health and safety, car seats, baby gear, monitors and more. More than 100,000 consumers from varying demographics were surveyed to build the Mom's Best List.
From globally recognized brand names, to ideas brought to life between naps by 'mompreneurs', the PTPA symbol adorned on a product provides a level of comfort and security to parents unlike any other, while providing brands with the leverage and prestige they need to stay relevant, boost sales and maintain their status as leaders in their respective categories.
"We're delighted to partner with PTPA in offering 'parent-tested' recommendations for everything from cribs and diapers to air purifiers," says Newsweek Global Editor in Chief Nancy Cooper. "If there's something that can make your life as a parent easier, we want you to know about it!"
In celebration of PTPA's upcoming 15th anniversary and its partnership with Newsweek, PTPA will offer an exciting giveaway of a StorkCraft nursery set featuring quality crafted, stylish and safety-tested furniture to five lucky Newsweek-reading families. To learn more about this and other trusted brands, visit http://www.ptpa.com.
About PTPA Media Inc.
Founded in 2007, PTPA Media certifies innovative products that families can trust. By connecting manufacturers with consumers, PTPA Media helps companies serve their markets better and helps families identify products that have been tested and recommended by their peers. Its growing network of more than 200,000 discerning community members empowers parents to make the best choices for their families, with safety, quality and value in mind. PTPA's highly anticipated 'Mom's Best List' features a curated roster of notable favorites for parents to explore. For more information, visit http://www.ptpaawards.com.
About Newsweek
Newsweek is a premier news magazine and website that has been bringing high-quality journalism to readers around the globe for over 80 years.
Newsweek provides the latest news, in-depth analysis and ideas about international issues, technology, business, culture and politics. In addition to its online and mobile presence, Newsweek publishes weekly English print editions in the United States, Europe/Middle East/Africa and Asia as well as editions in Japanese, Korean, Polish, Serbian and Spanish.