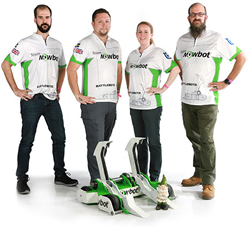 Here at Mowbot, we want to encourage and support their creative vision as they push the boundaries in designing and building new robots, -- Tony Hopp, Mowbot CEO
DURHAM, N.C. (PRWEB) December 03, 2020
BattleBots, the world's ultimate robot-fighting TV series is back for a brand new season, and Durham-based Mowbot will be prominently featured throughout the steel splitting tournament. Returning from a COVID hiatus, the epic metal-crunching season premiers on Thursday, December 3, at 8 p.m. ET/PT on the Discovery Channel with Mowbot as the show's platinum sponsor.
Mowbot – a national franchise aimed at disrupting the $99.5-billion-dollar lawn care industry with its robotic lawn-mowing service – has signed on to sponsor the new season of the most popular robotic combat sport in the world! The building of next-generation robots is a natural fit for Durham-based Mowbot, and its Husqvarna manufactured robotic lawnmowers.
"The robot battle community, and the broader maker community, are a robust and hard-working group who align with Mowbot values. Here at Mowbot, we want to encourage and support their creative vision as they push the boundaries in designing and building new robots," said Tony Hopp, CEO of Mowbot.
Mowbot is so committed to the robotics community, it is also sponsoring one of the sixty teams in this year's competition.
Team Mowbot
Team Mowbot, led by husband and wife team Craig and Corrine Danby of Clayton, North Carolina, have been waiting patiently for their shot at "The Giant Nut," the world championship BattleBots top prize. The Danby's have been working out of their Clayton garage for more than a year building, SlamMow! The suplex heavyweight robot has four wheels, four arms, and two flame throwers. It is designed to grab, slam, and set fire to the competition in the battle arena!
Thirty-five-year-old Danby built his first robot out of his grandfather's WWII helmet and a remote-control car when he was just 12 years old. He even competed on the British TV show Robot Wars when he was young but says his robots were always "horrid." But this season, with Mowbot's sponsorship, he claims he is poised to break "The Danby Curse."
"I've never had this kind of support. Having Mowbot has legitimized the passion I have for this. It finally feels like more than a hobby," said Danby. "I don't have to save for months to buy a motor, I can go buy it and experiment and concentrate on building and fighting robots and being a giant nerd."
Team Mowbot's SlamMow! will be going up against bots the likes of Tombstone, Whiplash, SawBlaze, and Captain Shrederator in the three-minute bouts in the battle arena. Each episode will also highlight the design and build of each bot and profile the teams, as passionate fans in more than 150 countries tune in. This season was filmed using strict health and safety protocols. There were no spectators but the teams themselves, cheering on the collisions from specially constructed "opera boxes" around the arena. Now it's time for viewers to watch and see who gets pulverized and who advances to the 32-team single elimination World Championship Tournament.
In addition to watching BattleBots on Discovery, viewers can join the conversation on social media by using the hashtags #Mowbot #TeamMowbot #BattleBots #robotics #STEM and following @Mowbot on Facebook, Twitter, and Instagram. Fans can also use the BattleBots AR filter (WT) on Instagram, Facebook, and Snapchat to share which bot the randomizer selects for them.
About Mowbot
Mowbot is headquartered in Durham, North Carolina, and was founded in 2017 by a proven team with experience building a vast network of home service franchises as well as building businesses around new and innovative technologies. The team has a unique background combining deep technical platform understanding with franchise operations. Mowbot comes to market with a proven franchisee support infrastructure and a business concept that is dedicated to providing robotic lawn care for residential and commercial customers in the most responsible and efficient manner.
About Discovery Channel
Discovery Channel is dedicated to creating the highest quality non-fiction content that informs and entertains its consumers about the world in all its wonder, diversity and amazement. The network, which is distributed to 88.3 million U.S. homes, can be seen in 224 countries and territories, offering a signature mix of compelling, high-end production values and vivid cinematography across genres including, science and technology, exploration, adventure, history and in-depth, behind-the-scenes glimpses at the people, places and organizations that shape and share our world. For more information, please visit http://www.discovery.com.