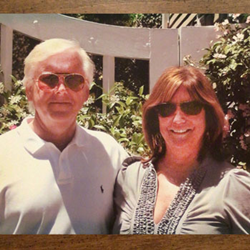 "I might splurge on a workbench!"
PARKERSBURG, W.Va. (PRWEB) January 07, 2021
A Woodcraft customer in Hickory, North Carolina, received a happy surprise shortly before Christmas – she was selected the winner of the "Tools Under My Tree" $1,000 Giveaway sponsored by Woodcraft and "Today's Homeowner."
Patty Vancamp received a $1,000 Woodcraft Gift Card after her name was picked randomly from the names of others who entered the giveaway between November 16 and December 13. She learned about the giveaway from a Woodcraft email.
When asked what she plans to buy with her gift card, Vancamp said, "I might splurge on a workbench!"
Vancamp and her husband Fred began woodworking after they retired and she inherited some furniture from her family. "We've refurbished a locking dresser and plan to make new legs for a large dining room table," she said. The couple has no dedicated woodshop, but she said they have taken over half of the garage for woodworking.
Vancamp also views herself as a DIYer. "I haven't had many projects yet," she said, "but I'm looking forward to exploring more and taking on more projects."
"Today's Homeowner," which Vancamp said she watches, is a popular home improvement authority that delivers fresh, original, practical advice to consumers across diverse media platforms. Brands include the nationally-syndicated "Today's Homeowner" TV and radio shows; the home enthusiast destination website TodaysHomeowner.com; the award-winning blog and web series, "Checking In With Chelsea;" and the full-service video production firm, 3 Echoes Productions.
To learn more about tools and supplies at Woodcraft, contact the store nearest you, visit woodcraft.com or call (800) 535-4482. For more information about Woodcraft franchise opportunities, visit woodcraftfranchise.com or email woodcraftfranchise@woodcraft.com.