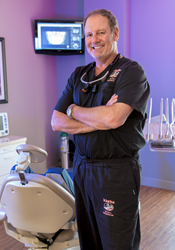 Because it requires no metal instruments such as scalpels, the LANAP protocol offers more immediate and comfortable results than other methods of gum disease management.
NORTH CHARLESTON, S.C. (PRWEB) November 12, 2018
Experienced dentist, Dr. Kevin Hogan, is urging people who may have the warning signs of gum disease to receive a consultation with a trained dental provider before their problems worsen. Common gum disease symptoms can include swollen or bleeding gums and persistent bad breath. At his practice, Smiles by Hogan, Dr. Hogan frequently uses minimally invasive treatments including the LANAP® protocol to help gum disease patients effectively manage their condition and restore their healthy smiles.
Affecting nearly half the population, per statistics published in the Journal of Dental Research, gum disease is a common and progressive problem that requires intervention to cure or manage. Gum disease occurs when the periodontal pockets become breeding grounds for harmful oral bacteria. Over time, the bacteria cause significant damage to gums, teeth and jawbone. Without proper oral hygiene treatments, patients with gum disease can expect to lose their natural teeth as the bacteria spread throughout the mouth.
During its earliest stage, gingivitis, gum disease presents itself with symptoms that may not seem severe, however, they should be discussed with a dentist immediately. Common signs of gum disease include painful gums, red gums, swollen gums, tooth sensitivity, bad breath and bleeding gums. In more advanced stages, gum disease can lead to rapid tooth decay, destruction of soft tissues, and eventual tooth loss. Beyond oral health consequences, studies have linked gum disease to serious systemic issues such as cardiovascular disease and diabetes.
Effective management of gum disease begins with qualified periodontal treatment from a dental clinician. Dr. Hogan prefers the minimally invasive LANAP protocol, a revolutionary procedure that uses modern laser technology. Using specialized tools, he can sanitize the periodontal pocket and remove any diseased gum tissue. This protocol utilizes the only FDA-cleared laser for True Regeneration of healthy gum tissues which decreases recovery time. Because it requires no metal instruments such as scalpels, the LANAP protocol offers more immediate and comfortable results than other methods of gum disease management.
Those who have noticed they have bleeding gums in North Charleston, SC, and are concerned about their health, can make an exploratory appointment with Dr. Hogan by calling his Mt. Pleasant, SC, office at 843-639-5921. Referrals are not needed.
About the Dentist
Dr. Kevin Hogan is a general dentist providing individualized care for patients in Mt. Pleasant, SC. Dr. Hogan is a graduate of the Indiana University School of Dentistry and has completed hundreds of hours of continuing education courses to stay contemporary with the latest dental technologies. In addition, he has also completed coursework with the Dental Organization for Conscious Sedation and has lectured at the University of North Carolina, Emory University, the Saginaw Valley University and AUA-American University of Antigua on head and neck anatomy and oral pathology. Dr. Hogan is a member of the American Dental Association, International College of Cranio-Mandibular Orthopedics, Academy of Laser Dentistry, International Association of Physiologic Aesthetics, Institute for Advanced Laser Dentistry, DOCS (the Dental Organization for Conscious Sedation), International Congress of Oral Implantologists and the South Carolina Dental Association. He is also a past member of the American Straight Wire Orthodontic Association, Maxillofacial Orthopedic Growth and Development, the American Academy of Pediatric Dentistry and the Functional Orthodontic Society. He and his team are dedicated to providing exceptional oral care to patients through personalized treatment plans. To learn more about the services offered by Dr. Hogan, please visit his website at http://www.smilesbyhogan.com or call 843-216-0908.