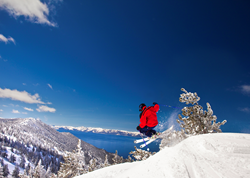 NORTH LAKE TAHOE, Calif./Nev. (PRWEB) November 13, 2018
North Lake Tahoe, home to the nation's largest concentration of downhill ski resorts, invests in new snowmaking equipment, energy-saving technologies, expanded winter events and luxury aprés amenities this winter, furthering its commitment to sustainability, modern luxury, family travel and wellness.
Several of the region's 12 downhill ski resorts have invested in capital improvements to accommodate the steady growth in travelers and offer a consistent snow product. Boreal Mountain California introduces the California Cruiser beginner chairlift, expanded snowmaking system and new parking lot. The new Village at Diamond Peak offers a mountain terrain park; and Homewood Mountain Resort upgrades its snowcat to provide guided access to over 750 acres of backcountry terrain. Mt. Rose, North Lake Tahoe's highest base elevation at 8260-feet, invests $2 million in mountain facilities, including 17 new snowmaking towers. Tahoe Donner introduces the new Snowbird triple chairlift, providing improved access to beginner terrain.
North Lake Tahoe resorts invest in new energy-saving technology to reduce the region's overall carbon footprint. Diamond Peak is the first ski resort in Lake Tahoe to become STOKE Certified, an award that recognizes its sustainability initiatives. Committed to a zero carbon footprint by 2030, Northstar California installs 24 new Low-E snowmaking sticks, replacing old equipment. Squaw Valley | Alpine Meadows completes a $1.4 million renovation at Alpine Meadows Base Lodge. By Dec. 1, the resort will be powered by 100 percent renewable electricity, reducing its total annual carbon footprint by 49 percent. Sugar Bowl Resort invests the first $3 million of an $8 million snowmaking system upgrade, doubling its water pumping capacity, reducing energy consumption and increasing coverage speed.
The region's 12 distinct communities host a series of winter events, including the 4th Tahoe Film Fest, Dec. 6-9, debuting internationally acclaimed environmental and foreign films. WinterWonderGrass, Mar. 29-30, celebrates mountain bluegrass, craft brews and family activities. Alpenglow Sports hosts free community events, including the Alpenglow Speaker Series, Nov-Feb, where five famous athletes tell stories about their adventures from remote mountain ranges across the globe. Northstar California invites women to participate in its signature Her Mountain Retreat, Jan. - Mar., which includes Her Mountain Lessons, Platinum First Tracks access and onsite yoga. Every afternoon, Northstar California's platinum guests can celebrate the iconic tōst tradition, with a complimentary glass of sparkling wine or cider.
This holiday season, families are invited to Merry Days and Holly Nights at Squaw Valley | Alpine Meadows; Noel Nights at Northstar California and Northern Lights at Incline Village and Crystal Bay. Guests can enjoy farm-to-table dinners with Olympians, magical sleigh rides, live music, performing arts and holiday celebrations throughout the region.
For luxury apres and wellness opportunities, North Lake Tahoe's spas incorporate indigenous stones and natural elements of the Sierra Nevada, including Northstar California's Tahoe Spa & Wellness Center which tailors spa treatments for skiers and riders. Various yoga studios offer diverse classes, including Squaw Valley's Wanderlust Studio which debuts new AIReal Yoga classes.
For more information about winter events, lodging specials and outdoor adventure experiences, visit gotahoenorth.com.
Ski Resort Open Dates (weather permitting)
Auburn Ski Club Training Center: Dec. 1
Boreal Mountain Resort
Diamond Peak: Dec. 13
Donner Ski Ranch: TBD
Granlibakken Tahoe Ski and Boarding Hill: Dec. 14
Homewood Mountain Resort: TBD
Mt. Rose Ski Tahoe: Oct. 26
Northstar California Resort: Nov. 16
Soda Springs Mountain Resort: TBD
Squaw Valley | Alpine Meadows: Nov. 16
Sugar Bowl Ski Resort: Nov. 30
Tahoe City Winter Sports Park: Nov. 22 (ice rink opens); Dec. 23 (sledding opens)
Tahoe Donner Downhill Ski Resort: Dec. 7
Tahoe Donner XC Ski Center: Nov. 22
Tahoe XC: TBD
About North Lake Tahoe
Lake Tahoe is a crown jewel of the Sierra. Formed approximately two million years ago, it is the largest alpine lake in North America and the second deepest in the United States. North Lake Tahoe spans two states and boasts two dozen beaches, twelve ski resorts, hundreds of miles of biking trails, half a dozen communities, and a growing number of nationally recognized human-powered events, races and festivals. North Lake Tahoe is a 45-minute drive from the Reno Tahoe International Airport, two hours from Sacramento International Airport and just over three hours from San Francisco International Airport. Visitor information centers are located at 100 North Lake Boulevard in Tahoe City and 969 Tahoe Boulevard in Incline Village. For more information, visit: gotahoenorth.com.
Media Contact
Jessica Pauletto, Account Manager
jessica@theabbiagency.com
775.323.2977