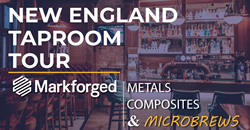 Industrial 3D printers are no longer a novelty item in a manufacturing facility. They have become a vital part, and compliment to, the machining operations on the plant floor.
PORTLAND, Maine (PRWEB) February 24, 2020
ACCESS Manufacturing Systems is pleased to formally announce the Northern New England Taproom Tour, featuring Markforged 3D Printers at popular breweries located in Maine, Vermont and New Hampshire.
The tour will take place in Portland, ME (March 9, 2020); Portsmouth, NH (March 10, 2020); Manchester, NH (March 11, 2020); and Burlington, VT (March 12, 2020). Demonstrations will allow attendees to experience the simplicity of the CAD to final 3D printed part process, while learning how parts can be printed in copper, stainless steel, tool steel, Inconel, titanium, onyx, fiberglass, carbon fiber, Kevlar and more. Complimentary beverages will be provided for attendees twenty-one years and older, as well as a chance to win a $100 gift card to each brewery event location.
The Northern New England Taproom Tour comes after the wildly successful Georgia Taproom Tour, which ACCESS hosted in September 2019. ACCESS experts drew considerable crowds in Georgia, intensifying the hype over groundbreaking advancements in additive manufacturing.
Interest has steadily grown among manufacturers throughout the Eastern United States, since ACCESS first announced the addition of Markforged 3D Printers to their product suite in June 2019.
"Industrial 3D printers are no longer a novelty item in a manufacturing facility. They have become a vital part, and compliment to, the machining operations on the plant floor," said Joe Lagennusa, national sales manager at ACCESS Manufacturing Systems. "Our goal is to deliver the newest technology, such as copper 3D printing solutions or reinforced continuous Carbon Fiber. Quality and strength of end-use and prototype parts are important needs our customers have expressed. These solutions deliver that and more, so we're excited to showcase the technology throughout Northern New England to share how local competitors are already leveraging additive manufacturing."
Stanley Black & Decker replaced their current manufacturing work flow with the Markforged Metal X 3D Printer and now saves between 34% and 48% on manufacturing costs, while reducing part lead-time by 69%.
Saint-Gobain increased productivity and design freedom with the Markforged X7 Composite 3D Printer. "We were able to hit print and have four hundred parts come off our X7 printer ready for the factory line . . . We had a one-hundred percent return on investment within six months of purchasing the printer," said Emmanuel Simadiris, research engineer at Saint-Gobain.
Registration for The Northern New England Taproom Tour is now open. Register today for free to secure your seat (space is limited).
About ACCESS:
ACCESS Manufacturing Systems, Inc. is the largest CAMWorks® reseller in the world. For more than 30 years, ACCESS has delivered best-in-class manufacturing software and accessories, along with unsurpassed industry expertise, to thousands of companies across the nation. ACCESS also provides customers with alternative, cutting-edge and affordable, end-to-end 3D printing manufacturing solutions. Our extensive industry knowledge has allowed our customers to enhance their machining operations by reducing setup time, doubling machine capacity, and improving overall quality. To gain ACCESS to the most qualified team of CAM experts in the industry, please visit accessmfgsys.com, or connect with us on LinkedIn, Facebook, and YouTube.