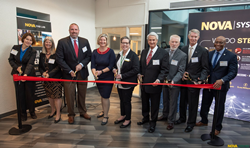 "What we are celebrating is more than a cool learning space. What we really show are industry aligned and industry required training labs. The facility represents our dedication at NOVA for industry pathways that drive our region economies."
MANASSAS, Va. (PRWEB) January 30, 2020
On January 13, 2020, Northern Virginia Community College opened the doors of a state-of-the-art engineering technology Fabrication Laboratory with a prestigious ribbon cutting event to thank members of the institution's partners in the business and legislative community for the support of engineering technology programs. The "Fab Lab" for short, will serve as a hub to connect industry to the developing technology workforce, and support NOVA's industry-aligned Engineering Technology program. It will also be leveraged by NOVA's STEM outreach program, NOVA SySTEMic, to inspire K-12 interest and encourage future generations to pursue careers in engineering technology. The ribbon-cutting was followed by a week-long series of community events.
The creation of such a project was in response to the many expanding technology companies in the Northern Virginia region. Such companies that have spearheaded tech partnerships with NOVA like Micron Technology Inc., one of the largest semiconductor manufacturers in the world, will invest $3 billion to expand memory chip production capabilities at its Manassas plant, with plans to create 1,100 new jobs by 2030. The project was a joint collaboration with GoVirginia, Micron, U.S. Army's Night Vision and Sensors Directorate and BAE Systems.
The "Fab Lab" would let interested innovators have access to a space to lay the educational base for fulfilling these future job opportunities. "The space is about letting everyone know that this is the career path for them. More often than naught, people may not see themselves in this capacity. 'WE DO STEM' – it's about moving the region forward," said, NOVA's new President, Dr. Anne Kress. "What we are celebrating is more than a cool learning space. What we really show are industry aligned and industry required training labs. The facility represents our dedication at NOVA for industry pathways that drive our region economies."
The spaces offered through the "Fab Lab" such as a 'Woodshop', 'Maker's Space', 'Computer Control & Computer Design Center' and '3-D Printing Workshop' -- will create the building blocks for careers in engineering technology. It is an open-access and inclusive multi-nodal innovator space with the mission to apply STEM principles and integrating it into easy and applicable concepts for all levels of interested students. From K-12 participants, college ready students, industry professionals looking for the latest and greatest session to build their repertoire and for teacher development in advanced machinery training – the space will provide it all.
The series of events offered after the commemorative 'ribbon-cutting' allowed for demonstrations in the 'Fab Lab' such as; STEM field trips and introductions to the lab's CNC Router (48" x 48") was provided for a handful of participants. 'Lunch & Learn' opportunities for faculty and staff were held Tuesday and Thursday in the lab. The capabilities of the 'Fab Lab' and trends in additive manufacturing and robotics were discussed. On Thursday night the 'Fab Lab' hosted a Robotics Night Open House where sixty-six attendees of all ages had the opportunity to use and learn about five different robotic systems. Two training sessions were held on the VEX IQ robots in which participants learned how to program and manipulate the robots. On Friday, the weeklong series of events closed with a 'College Open House' with 90 attendees able to learn and use equipment to build molds and use a plastic thermoforming machine, make an LED Monster with sewable circuitry, play with electronic circuits and sensors, try their hand at robotic challenges, laser cut fabric, practice CAD drawing, and observe some wood working demos. Due to weather conditions, the Saturday (January 18th) 'Community Fab Lab Open House' is to be rescheduled for March 14, 2020 from 10am to 4pm.
In fall of 2018, NOVA was approved for a historic first round of project grants to create the "Fab Lab" at the college's Manassas Campus. The "Fab Lab" will provide resources needed to grow and strengthen the current and future engineering technology workforce in Northern Virginia. The GO Virginia Board of Directors, which is comprised of members of the Governor's cabinet, the General Assembly, the business community, and others, approved more than $2.2 million in GO Virginia Per Capita grant funding for five projects throughout the Commonwealth.
Following such a prestigious event, NOVA SySTEMic, Northern Virginia Community College's STEM Outreach program will hold a premier signature event called 'Night at the Museum'. The event is a two-day VEX Robotics Competition (VRC) signature event at the Smithsonian National Air and Space Museum's Steven F. Udvar-Hazy Center in Chantilly, VA on January 30, 2020 and on January 31, 2020.
For more questions about the programs and future events, please contact Josh Labrie at jlabrie@nvcc.edu. For media questions, please contact Hoang Nguyen at hnguyen@nvcc.edu.
###
Northern Virginia Community College is the largest institution of higher education in the Commonwealth of Virginia and one of America's largest community colleges. NOVA enrolls more than 75,000 students at its six campuses in Alexandria, Annandale, Loudoun, Manassas, Springfield and Woodbridge, and through NOVA Online. For more information about NOVA and its programs or services, call 703-323-3000 or visit the College's website, http://www.nvcc.edu.
Legislative Attendees List:
Andrea Bailey – Prince William County Board of Supervisors
David Choi – Office of John Bell
Donald Shuemaker, Manassas City Council
Ian Lovejoy – Manassas City Council
Karen Klotz Jeffers – Office of Congressman Ron Whitman
Kenny Boddye – Prince William County Board of Supervisors
Laszlo Palko – City Manager for Manassas City Park
Michelle Davis-Younger, Manassas City Council
Miriam Machado -- Manassas City Council
Preston Banks – Vice Mayor, City of Manassas Park
Ralph Smith – Manassas City Council
Theresa Coates Ellis, Manassas City Council
Victor Angrry – Prince William County Board of Supervisors
William Patrick Pete – City Manager, Manassas
Sponsors List:
Lockheed Martin
US – Fort Belvoir Night Vision Labs
BAE
Micron
Arconic Foundation
PwC Service Authority