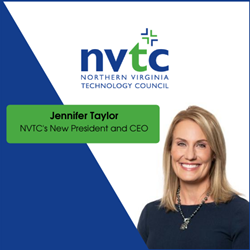 Bobbie Kilberg, NVTC's president and CEO emeritus and strategic advisor, says, "Jennifer's background in the technology industry, combined with her experience with leading membership organizations, is perfectly suited for NVTC's needs."
MCLEAN, Va. (PRWEB) August 18, 2020
Northern Virginia Technology Council (NVTC), the trade association representing the technology community in Northern Virginia and the Greater Washington Area, today announced that Jennifer Taylor will join the organization as President and CEO. The announcement follows Brad Schwartz's appointment as Acting President and CEO and Bobbie Kilberg's retirement on June 30, 2020, after nearly 22 years of leading and growing the organization.
Tech companies like Google, Microsoft, Samsung and others already have an established presence in the region, including those incubated here locally such as Appian and others. In addition, the region is fortunate to be the home for many major government contractors and systems integrators including Booz Allen Hamilton, Deloitte, ManTech, MAXIMUS, and SAIC. More recently, the decision to locate Amazon HQ2 in Northern Virginia will be an even greater catalyst for an exciting, new growth phase in the region's technology evolution, elevating the region's stature further.
Taylor, a native of the DC region for 30 years, comes to NVTC from the Consumer Technology Association (CTA) where she served as Vice President of Industry Affairs. While at CTA, she engaged with many of its 2,000 member companies from Alarm.com, Amazon, BOSCH, Facebook, Google, HP, IBM, Microsoft, Samsung, Sony Electronics, and Sprint to Ford, Toyota, Lyft, and Uber. During her time at CTA, Taylor launched CTA's 21st Century Workforce Council and Diversity & Inclusion Working Group, interfacing with more than 200 technology company members. She also created the CTA Apprenticeship Coalition, in partnership with IBM, to help tech companies build and expand hundreds of tech apprenticeships nationwide and create more career pathways for American workers in fast-growing fields. Previously, she served as Executive Vice President, Sales and Marketing of Caring Village, a subsidiary of Segue Technologies. Prior to that, Taylor was Vice President, Corporate Relations and Business Development at AARP Services, where she developed go-to-market and multi-channel revenue sales strategies for a range of industry verticals. While at AARP, she worked with major industry partners including Airbnb, Best Buy, Chase, Comcast, Intel, Microsoft, and Pfizer. Earlier in her career, she served in leadership roles at the American Red Cross, RTCRM (a Wunderman Company), KSK Communications, and American College of Cardiology.
Bobbie Kilberg, NVTC's president and CEO emeritus and strategic advisor, says, "Jennifer's background in the technology industry, combined with her experience with leading membership organizations, is perfectly suited for NVTC's needs. I'm confident she will build on what we've established and work to take NVTC to the next level."
"I am honored to serve as NVTC's new President and CEO and to expand on Bobbie's legacy that turned this region into the tech powerhouse it is today," says Taylor. "I'm incredibly excited about NVTC's future and the impactful role the organization will play to help grow and sustain an innovation community anchored by tech companies of all sizes, policy makers, venture capitalists, and academia."
"As one of the largest and most influential technology councils in the U.S., NVTC is poised for its next phase," said Greg Baroni, chairman of the NVTC Board of Directors as well as chairman and CEO of Attain. "Jennifer brings the right mix of policy, technology, business development and marketing leadership to NVTC. She is a forward-thinking leader who will build on the foundation that Bobbie established and advance NVTC's position as the leading regional voice of the technology community."
Taylor will replace Brad Schwartz, who served as Acting President and CEO since July 1, 2020, following Kilberg's retirement. "The Board of Directors thanks Brad for his outstanding leadership over the past few months while the search continued for NVTC's permanent successor," said Rich Montoni, chair emeritus of the NVTC Board of Directors, member of the NVTC Chairman's Council, and vice chairman of MAXIMUS' Board of Directors. "I'd also like to thank the organizational consulting firm Korn Ferry for their partnership in finding NVTC's next leader."
"We are both sad and thrilled about this NVTC announcement -- sad to lose such a groundbreaking effective leader from CTA, but thrilled for NVTC and the regional tech community. As a board member of NVTC and an advocate for Jenn and her career, I cannot think of a more appropriate executive to fill the big shoes of Bobbie Kilberg," said Gary Shapiro, president and CEO of CTA.
Taylor's role as NVTC President and CEO is effective September 10, 2020.