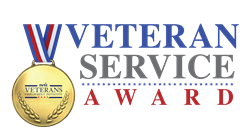 CACI's ability to hire over 2,000 military service members, spouses, and veterans during the pandemic is truly noteworthy," said Steve Cooker, Executive Vice President of Monster Worldwide
MCLEAN, Va. (PRWEB) December 17, 2020
Northern Virginia Technology Council (NVTC), the NVTC Foundation's Veterans Employment Initiative (VEI), along with Monster and Military.com, today announced CACI the winner of the fifth annual NVTC VEI Veteran Service Award. The NVTC VEI Veteran Service Award is sponsored by Monster and Military.com and honors NVTC member companies who have demonstrated a superior level of engagement with the VEI and support for the Veteran community.
CACI, a Virginia Values Veterans (V3) certified company, was selected for exceptional engagement and outreach by its talent acquisition team in assisting and supporting job-seeking veterans and military spouses. CACI also provides career opportunities, resources, and training to its veteran employees with its Veterans Employee Resource Group and other veteran-focused programs.
NVTC selected CACI as this year's Veteran Service Award winner for the company's long standing commitment to both hiring and supporting military veterans, their families and the military community. At CACI, 37 percent of employees are veterans, military spouses, or serving members of the National Guard or Reserves. Veterans and these members of the military community add tremendous value to any organization, and their talent, integrity, sense of purpose, self-discipline, initiative, and commitment make them particularly well-suited for CACI. In addition to CACI, Maximus, and Noblis were named finalists for the award.
Launched in 2013, the NVTC Veterans Employment Initiative (VEI) connects Veterans and military spouses to employment, internship, apprenticeship and educational opportunities. It also provides support to NVTC member companies in their efforts to recruit, hire, train and retain qualified Veteran and military spouse employees. V3 certified NVTC member companies have hired over 16,000 Vets since 2013.
"The VEI Veterans Service Award winner CACI, as well as our other two finalists, Maximus and Noblis, demonstrated the highest level of commitment to hiring Veterans, and they put that commitment into practice with programs and a deep engagement in our region. CACI's ability to hire over 2,000 military service members, spouses, and veterans during the pandemic is truly noteworthy. Effective veteran hiring programs start from the top. John Mengucci's commitment to hiring veterans has been embraced by CACI's recruiters and hiring managers and it's evident in the results," said Steve Cooker, Executive Vice President of Monster Worldwide and Co-Chair of the NVTC Veterans Employment Initiative Task Force.
"CACI is honored and grateful to receive this year's NVTC Veterans Employment Initiative Veteran Service Award. Our company is committed to hiring, supporting, and retaining veterans, veterans with disabilities, military spouses and current members of the National Guard and Reserves. These talented men and women enrich our company and contribute greatly to the expertise and technology we provide to our customers' national security missions." John Mengucci, CEO and President, CACI International Inc.
Finalists for the award were evaluated by an independent panel of judges on their Veteran and military spouse hiring and retention, participation in the VEI, and support of other Veteran and military-related activities in the community. Previous winners of the VEI Veteran Service Award were, The MITRE Corporation, PRISM Inc., IntelliDyne, LLC., and PenFed Credit Union.
About the Northern Virginia Technology Council
The Northern Virginia Technology Council (NVTC) is the trade association representing the Northern Virginia technology community. As one of the nation's largest technology councils, NVTC serves companies from all sectors of the industry, from small businesses and startups to Fortune 100 technology companies, as well as service providers, academic institutions, foreign embassies, nonprofit organizations and government agencies. More than 500 member companies make up the NVTC membership and look to the organization as a resource for networking and educational opportunities, peer-to-peer communities, policy advocacy, industry promotion, fostering of strategic relationships, and branding of the region as a major global technology center. Learn more at http://www.nvtc.org.