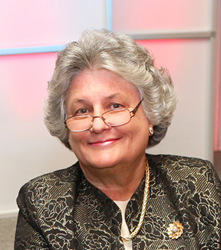 "Bobbie is an icon in the industry. Her extraordinary leadership over two decades positions NVTC for its next phase during this very exciting time," said Richard Montoni, Chairman of the NVTC Board of Directors and Vice Chairman of MAXIMUS' Board of Directors.
Herndon, Virginia (PRWEB) October 16, 2019
Northern Virginia Technology Council (NVTC), the membership and trade association for the technology community in Northern Virginia, today announced that its President & CEO, Bobbie Kilberg, plans to retire on June 30, 2020 after leading the organization for 22 years. The NVTC Board of Directors has formed a Search and Advisory Committee and has engaged the consulting firm Korn Ferry to facilitate the search for NVTC's successor President and CEO. Kilberg will remain in her role through June 30, 2020, responsible for the ongoing management of NVTC and helping to support the search.
Kilberg has served as NVTC's President and CEO since 1998. She tapped into her White House experience from four presidential administrations to expand the region's influence as she worked across the public and private sectors to help put the region on the map as one of the most diverse and influential technology communities in the U.S.
With countless contributions, Bobbie fostered the establishment and upward growth of the Northern Virginia technology sector. Recognized among the region's most powerful tech leaders and most powerful women, Bobbie Kilberg is a tech titan who has set great expectations for NVTC's direction moving forward.
During her leadership, NVTC has seen growth in membership and strategic partners, currently representing approximately 1,000 companies and entities and 350,000 employees in the region. NVTC is an impactful resource to its members -- established and emerging technology companies, systems integrators, service providers, universities/colleges, foreign embassies, non-profit organizations and government agencies.
"Bobbie was instrumental in shaping NVTC into one of the largest technology councils in the U.S. and into the regional tech powerhouse that it is today," said Richard Montoni, Chairman of the NVTC Board of Directors and Vice Chairman of MAXIMUS' Board of Directors. "Bobbie is an icon in the industry. Her extraordinary leadership over two decades positions NVTC for its next phase during this very exciting time."
Bobbie worked to establish Northern Virginia as a tech hub known for its expertise, diversity and innovation in areas from government IT to telecom, systems networking, cybersecurity, data centers, cloud, artificial intelligence, and more.
From her earliest days at NVTC, Bobbie was the guiding force for the emergence of the region's technology community as a strong, influential voice with policymakers at the state, federal and local levels. She has been a trusted counselor to elected and appointed officials from local county leaders, to governors and state officials, members of the U.S. House and Senate, and presidents of the United States. Over the course of her tenure, she successfully built and advanced a collaborative partnership between NVTC members and policymakers at all levels of government that enabled tech leaders to engage directly in policy development and provided elected officials with access to the tech community's thought leadership, innovation and expertise. Her efforts underpinned the success of the region's emergence as a global technology center by providing a strong and positive regulatory, tax, and policy environment and public investments that support workforce and education, transportation, research and other critical technology business priorities.
"It's been my great honor to serve an organization that is so deeply committed to this region's vibrant and diverse technology ecosystem. I'm grateful to have worked alongside some of the region's most passionate tech luminaries and government officials who have shared the same vision of Northern Virginia as a major tech hub. I am especially grateful to NVTC's dedicated and talented staff who made this all possible. Under the direction of our Board of Directors, we've accomplished so much together over the last 22 years," said Bobbie Kilberg, President & CEO, NVTC. "I am confident that NVTC's Board will choose a leader who will maintain NVTC's values while building on and expanding the organization's impact in the coming years."
Kilberg has been the recipient of many awards over her career, which have included the 2004 Lifetime Achievement Award from Women in Technology; being named the 2009 Business Leader of the Year by Washingtonian magazine; induction as a Laureate into the Washington Business Hall of Fame in December 2013; Washingtonian magazine's 100 Tech Titans of Washington in 2019, 2018, 2017, and 2015 and 100 Most Powerful Women in 2015; Virginia Business magazine's Most Influential Virginians in 2019, 2018, 2016 and 2015; and the Washington Business Journal's 2017 and 2015 Power 100.
Beyond NVTC, Kilberg's long-standing commitment to our region is evidenced by her strong spirit of community service and corporate leadership over the years. She serves on the board of directors of Appian, Inc., the American Action Forum, and the NVTC Foundation. Her past corporate board service includes United Bank – VA and the RG Group. She is a member of the Honorary Board of Easter Seals DC/MD/VA. Kilberg formerly served on the Board of Visitors of the University of Virginia and the boards of trustees/directors of The George Washington University, public television station WETA, the Wolf Trap Foundation for the Performing Arts, The Potomac School, U.S. Naval Academy, U.S. Holocaust Memorial Council, Lab School of Washington and the Greater Washington Sports Alliance.
For further information, as well as to provide recommendations to NVTC's Search and Advisory Committee, please contact Lorraine Lavet, Senior Client Partner, Korn Ferry via email at lorraine.lavet@kornferry.com.