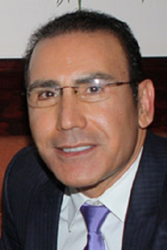 North Hollywood, CA (PRWEB) August 09, 2017
Hamlin Dental Group announces their New Patient Special, which includes a comprehensive exam and dental X-rays, when necessary. Finding a new dentist can be a tall order, but this deal can make it both easier and more affordable. North Hollywood dentist, Dr. Hamid Reza, offers personalized care for patients of all ages.
This special includes:
A comprehensive dental exam
A bonus free cleaning in the absence of gum disease
Dental X-rays when necessary
New patients can take advantage of this offer for just $49. Dental insurance might cover part or all of the cost of routine care, and Hamlin Dental Group accepts a variety of insurance plans and works with patients to ensure affordable, accessible care.
Along with good dental hygiene, routine dental exams are the best way to keep teeth and gums healthy. At these exams, Dr. Reza will check teeth and gums to ensure everything is healthy and free of dental disease. If needed, he will also make recommendations to help you improve your dental health. Professional cleanings are suggested to take place twice a year. Even if patients clean their teeth properly at home, professional dental cleanings are necessary to remove plaque and tartar from hard-to-reach areas. X-rays can be used to identify problems that may not be seen by the unaided eye.
"At Hamlin Dental Group, we always believe that your oral hygiene and your smile are a big part of your personality that can increase your self-confidence, raise your self-esteem, and make you function in a better and normal way," said Dr. Koshkerian, Dr. Reza's associate. "We encourage you to visit us and ask us how to achieve these goals."
About North Hollywood Dentist Dr. Hamid Reza and Hamlin Dental Group
Dr. Reza is the founder of Hamlin Dental Group and is a member of the American Dental Association, the California Dental Association and the San Fernando Valley Dental Association. He works with a team of dentists and dental specialists, including Drs. Woo, Yessaian, Wang, Vafadar, Aminian, Koshkerian and Garemani, who work together closely to provide patients of all ages, including children, with comprehensive dental care that includes restorative, orthodontic, periodontal and cosmetic dentistry.