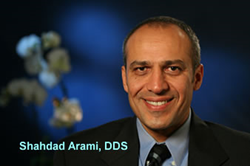 Northridge, CA (PRWEB) November 10, 2014
Northridge cosmetic dentist, Dr. Arami, is now offering various teeth whitening options, including tooth bleaching, Zoom whitening and even porcelain veneers just in time for Thanksgiving.
Teeth consist of several different layers. The inner chambers are filled with pulp, which includes the nerve, blood vessels and other soft tissues. The dentin layer encloses and protects the pulp, and the outer layer is enamel, which is the hardest substance in the human body. Various substances, including tobacco, food and coffee and other beverages, accumulate in the form of a film called a pellicle. Certain substances in food and drinks, or chromogens, penetrate the structure of the tooth and, over time, they oxidize.
The enamel layer of teeth is porous, and the crystals that form this layer, can be penetrated by the chromogens in the pellicle. These stains work their way into the porous enamel and can even stain the deeper dentin layer. While these stains are essentially harmless, they can be unsightly. Dr. Arami offers teeth whitening treatments that penetrate into the deeper layers of the tooth to break up the stains they contain. Both in-office and take-home whiteners can be used to eliminate stains from:

Sodas and soft drinks
Wine
Coffee and tea
Berries
Curries
Energy drinks and juices
Artificial dyes
Smoking and chewing tobacco
Not all patients are candidates for tooth whitening treatments, and some may benefit from additional services, such as dental bonding, porcelain veneers, dental bridges and dental implants.
About Drs. Arami and Ariz, Experts in Teeth Whitening Northridge
Dr. Shahdad Arami is a graduate of UCLA's School of Dentistry. After completing his general practice residency, which focused on treating medically compromised and phobic patients, Dr. Arami continued his education in the fields of cosmetic and implant dentistry. He has a warm, friendly personality that appeals to even the most anxious patients, and today, Dr. Arami is a member of the California Dental Association and the American Dental Association.
Dr. Farshid Ariz is a top Northridge oral surgery expert. He graduated from Boston University's School of Dentistry and completed his Certification of Advanced Graduate Studies in periodontics two years later. He is an Assistant Professor to Advanced Periodontics at the University of Southern California School of Dentistry and an expert in full mouth reconstruction, aesthetic implant surgery, aesthetic periodontal therapy and oral implantology. Today, Dr. Ariz is a member of the Medical Review Institute of America, Inc., the American Academy of Periodontology and the American Academy of Osseointegration.